Meet Lynn North, Recognized Top Realtor & Dedicated Community Volunteer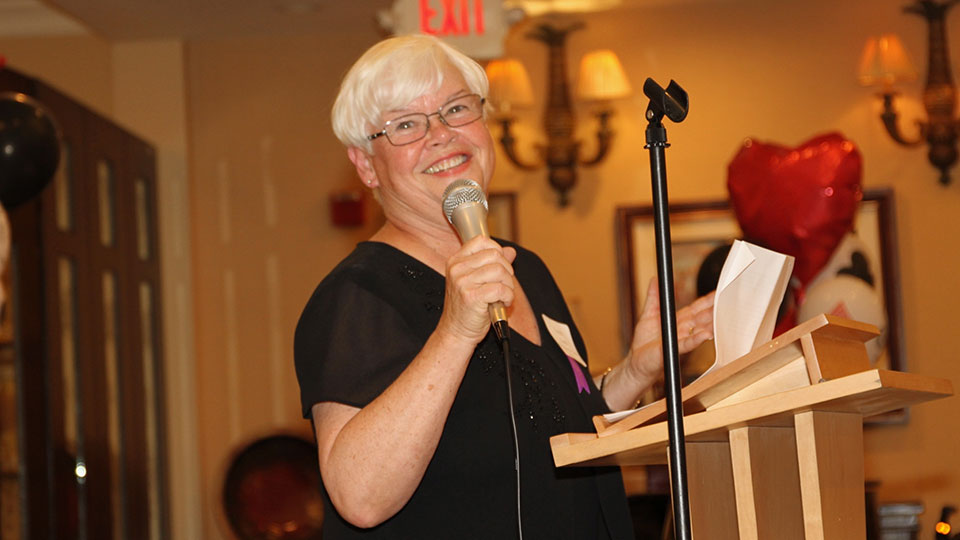 Lynn North has been a realtor for the past 15 years & ranked in the top 5% with the prestigious Alain Pinel Realtors in the Bay Area. She has served as coordinator and director of programs and is currently in various leadership positions at Immanuel Lutheran Church in Los Altos, California. Previously, she was director of telecommunications business development at Network Appliance and vice president in sales with SBC and Pacific Bell, where her large team literally built the infrastructure known today as Silicon Valley. 
After earning her Bachelor of Science degree in Organizational Behavior from University of San Francisco, Lynn's expertise has been in helping her clients deal with change, whether it be in growing their business or with her recent board experiences, in helping families with seniors deal with the challenges of life changes. Lynn has been the Chair on the Board of Sunny View's Foundation since 1999 & with Front Porch since 2004.
Lynn has been in several key leadership roles at Immanuel Lutheran Church for 33 years. For 3 years, she took 40 youth and adults to Mexico to build homes for the poor and has been an active role in local schools and community sports programs. Lynn is a licensed real estate agent drawing on her wealth of experience helping clients and is a fourth generation Bay Area resident, who has lived in Los Altos for 33 years. She was past president of her neighborhood association.
Lynn has earned the reputation among her colleagues and clients for honesty, integrity and loyalty. Lynn's philosophy on real estate recognizes the need for a knowledgeable consultant who can produce top results. "I work continually to keep up with this ever-changing, complex market and strive to help my clients realize the greatest return on one of their largest investments."
Q: Can you share with us what made you decide to have a career in Real Estate?
LN: I have always loved helping people realize their dreams whether it is helping a couple move to a bigger house to accommodate a growing family or helping an older person move to a more supportive environment like a retirement community that will better meet their needs. Moving is one of the biggest changes and stresses that people can experience, so I leverage my expertise to help them. I have a degree in Organizational Behavior from the University of San Francisco, so throughout my career, I have helped facilitate major changes, such as guiding a telecom company from monopoly to creating a competitive environment during the birth of the Silicon Valley. 
Q: Looking back, what do you think were the ingredients that kept you as a top Realtor year after year?
LN: It is the ability to focus on what clients truly need and give them a concierge experience. Also, I am known by my peers to be fair and honest and to conduct business with integrity. I give every buyer and his or her agent an equal chance. Also, I leverage my marketing expertise to ensure that their homes are promoted extensively.
Q: What is Alain Pinel Realtors' President's Round Table?
LN: I was honored and recognized as one of the exemplary Alain Pinel Realtor's agents in 2017, which acknowledges those agents with the highest results. Alain Pinel Realtors has one of the strongest brands and is recognized nationally. It is a privilege being a part of their team.
Q: How has technology changed the Real Estate industry over the years?
LN: Like all industries, we have evolved with better tools that give buyers and sellers the ability to use technology to obtain more information and be more effective at finding what they want. Candidly, all of the market comparative data analysis is online along with sophisticated search criteria and other information for the buyers to find their homes too!
Q: Can you share with our audience one of your most memorable moments your career?
LN: There are so many moments where I have had the privilege to help my clients realize their lifelong dreams. For example, I help newlywed couples purchase their first home or young families purchase a larger one near great schools. I help older clients downsize and realize their retirement dreams by finding them a home closer to their families.  
Q: What's the toughest part of your job?
LN: The toughest part of my job is helping my clients realize the highest return on their homes in a changing and challenging market! 
Q: I know you're very passionate about the work Sunny View Retirement Community does … can you share with our audience some of the volunteer projects you've been a part of?
LN: Sunny View is a wonderful, caring community. The community works with the Front Porch Center for Innovation and Wellbeing on a number of pilot projects that use technology to better meet the needs of residents. For example, one project combines Nest and Amazon's Alexa to give independence to residents in assisted living. The 'voice first' technology mitigates falls by turning on a light with a simple voice command. Residents can also adjust the room temperature, make phone calls or listen to music using commands. Another project that was truly special was to provide a shelter for senior residents of Cameroon, Africa.  
Q: In the years that you've been involved with community and nonprofits … tell us, what brings you the greatest joy?
LN: We only have a finite amount of time in life to make a difference in this world and help those who need it the most. It is out of gratitude that I help those who are in need. It is very rewarding to share those gifts with others. Recently on behalf of Sunny View, I had the privilege to present an award to Francis N. Njuakom, the director of CDVTA in Cameroon, Africa, (www.cdvta.org). He shared with us that his village, which is located in a very poor area, had to choose to support the children over the seniors, since they only had the resources for one group and the children were their only hope for the future. Therefore, the seniors were homeless and our Sunny View residents and staff along with the Sunny View Foundation and Sunny View's parent company, Front Porch (www.frontporch.net), matched the resident and staff gifts to build a senior center for elders in Cameroon. It was so heartwarming and so wonderful for our residents to help their peers around the world too. 
Q: Which woman inspires you and why?
LN: As a Christian, Mother Teresa truly has inspired me in her incredible work for the poor of India. I continue to receive inspiration from her reflections and words of wisdom. Michelle Obama is inspirational in terms of how to make a difference in spite of obstacles and even though she started in the projects in Chicago, with perseverance and hard work, she ended up First Lady of the United States. 
Q: What are some of the challenges you feel women face today?
LN: I think that women's greatest challenges are to continue to believe in themselves and that they can succeed and not lose the confidence and faith that they are on the right path in spite of the challenges. As a pioneer leader (former VP at Pac Bell and SBC, where my team built the whole infrastructure in the Silicon Valley area), I knew that the people I had the privilege to lead made the difference, as they were closest to the clients' needs.
Q: What advice would you give to young women who want to succeed in the workplace?
LN: Respect all those who have led the way, listen and be grateful to your mentors and be confident to take risks! All of us can recollect those who believed in us and were humbled by their incredible support. They were the ones who created your path!
Q: What are some of your favorite interests and hobbies that you enjoy?
LN: While I serve on two non-profit senior boards, I am active in leadership positions at Immanuel Lutheran Church in Los Altos, including coordinating weddings and truly love helping children (previous Sunday School coordinator) and assisting seniors. Of course, I enjoy hiking, traveling and time with my children and grandchildren.
Five Things About Lynn North
1. If you could talk to one famous person past or present, who would it be and why?
I would like to answer with two people. Jesus Christ and Abraham Lincoln. As a direct descendant of Abraham Lincoln (my paternal great grandmother's cousin was Nancy Hanks, his real mother), I would love to interview him on how we can heal our nation by realizing we have more in common than have differences. I would love to meet Jesus to learn from him on how he changed us to serve others and be inspired by his message on gratitude and being in his presence.
2. When you were 10, what did you want to be when you grew up?
After losing my mother when I was 9, I realized at such an early age that life is so precious and that I wanted to make a difference to as many people as possible.
3. Where is your favorite vacation spot?
One of my favorite places is Maui, as it is so relaxing and so beautiful. We all enjoy it as a family too!
4. Can you share with us one of your passions in life?
Truly making a difference and knowing that I have received so many blessings to share with as many as possible!
5. How do you deal with stress?
Gratitude is the secret in terms of perspective and realizing how much I already have been blessed and that I can fulfill my purpose in life in helping so many. Also, keeping a balance is key too!