Believing in Endless Possibilities, Fueled by Passion Meet Leading Pilates Industry Leader & Co-owner of Urban Body, San Jose Maria Yu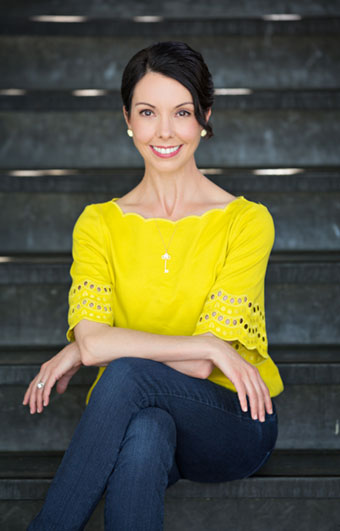 Q: How did you get started in Ballet and what was it like having a career as a Principal Dancer in the former Ballet San Jose Ballet?
MY: In the dance world, we often say that a career in ballet chooses you. I believe this was the case for me. I was essentially born into the ballet world. My Mother, although never a professional ballet dancer, loved the art form, studied it and eventually opened her own ballet school in central Florida, where I am from. It was also my mother who planted the seed to become a successful businesswoman. Having her as my example, advocate and ballet teacher led me to win full merit scholarships to prestigious ballet schools such as Joffrey Ballet, School of American Ballet, Boston Ballet, and the Bolshoi Ballet. I attended these summer programs, which set a strong foundation for my technique and grew my desire to pursue a path as a professional dancer. When I graduated high school at age 18, I auditioned for companies and landed a contract as a Trainee with Cleveland San Jose Ballet. I started at the very bottom and worked my way up the ranks of the company. In my first year, I was promoted to apprentice level so that I could perform the principal role of "Maria," in Dennis Nahat's unforgettable Nutcracker. It took me 10 years of hard work and grit to finally gain the title role of Principal Dancer, which I was given after the company had permanently moved to the Bay Area and was renamed Ballet San Jose. It was an honor and a huge responsibility to be a Principal Dancer. The title afforded me priceless opportunities. I was trusted to lead the company on stage, in such roles as Juliet in Romeo and Juliet, Odette/Odile in Swan Lake, Swanhilda in Coppélia, the title role in Giselle, and The Firebird, which was created for me, to name a few. It was at this time that I also realized the importance of cross training to keep my body strong and injury free. These experiences all set the stage for the next part of my journey. 
Q: What led you to transition to a Pilates Instructor and eventually, co-owner of Urban Body San Jose?  
MY: As a Dancer, I can't help likening real life to live performance. Expecting the unexpected becomes part of your reality and you learn to embrace it! Embracing this unexpected path has led me to the world of Pilates and business ownership.  
My first experience with Pilates was at a gym. I loved how my body felt after working the springs of the Reformer. I took enough private sessions to learn the exercises and be able to do them on my own. I liked the results and how much stronger and supported my body felt. It gave me more freedom in my technique and artistry. I was hooked and I knew I would be a Pilates practitioner for life. The combination of Pilates with my Floor Barre routine was the perfect elixir of cross training to support my 17-year long career with little injury. 

There comes a time in every dancer's career where the inevitable decline becomes visible on the horizon. For me, this time came as leadership shifted in the Company, and with the birth of my first daughter. I needed to get back on the stage after my daughter was born. This was an important goal of mine. I danced the title role in the ballet Cinderella when she was seven months old. This experience made me even more aware of the power that Pilates and Floor Barre had on my success. Then, there was my Fairy Godmother…. Shannon Bynum Adams, founding owner of Urban Body San Jose (http://urbanbodysanjose.com/ ). Literally, in the ballet, she played the Fairy Godmother to my Cinderella. Yet again, life imitates art. As I contemplated retirement, and what direction to take next, Shannon, already a certified Pilates and Gyrotonic instructor, guided and encouraged me to get my comprehensive Pilates certification. It was an appealing option for many reasons. I could still work with dancers and be an active agent for a movement modality that I could personally speak to the power of. Also, with the news of my second pregnancy, I was going to need some flexibility in my work schedule. So, I signed up for Power Pilates 600 hr. Comprehensive Certification. With the birth of my son during the training, it took me two years to complete the certification. During that time, Shannon was completing her second revision to a hip replacement and needed a space to rehab her body. Urban Body San Jose was born. She kindly invited me to use her space to practice, and if I wanted to bring my own clients in to teach, I could. We taught alongside each other and Urban Body San Jose started to grow. She purchased more equipment to accommodate demand and we started to burst at the seams. Urban Body expanded into our current location on the Alameda as I brought our third child into the world. Being at Urban Body was my sanity and respite from being a mother of three small children five and under. I needed it to survive and to be a present mother. Teaching the work gave me joy, and practicing it gave me my body back. More importantly, I realized Pilates strongest impact, wellbeing as a total sense. Joseph Pilates, the founder of the work, called it Contrology, the science of control. Connecting the mind, body, and spirit is where empowerment begins. And with that realization, the partnership opportunity presented itself and with the full support of my husband, I said, "Yes"! 

Q: What types of instruction do you offer at UBSJ?
MY: At Urban Body San Jose, we offer instruction in Classical Pilates and the Gyrotonic Method. If you have a spine, either modality will resonate with you! To differentiate the methods, here is a brief description of both modalities.
The GYROTONIC® Method is a unique, holistic approach to movement. Benefits of regular practice include a healthier spine, increased range of motion, greater joint stability, improved agility and greater athletic performance. The GYROTONIC® Method is practiced in duet or private classes under the instruction of a qualified GYROTONIC® Trainer. With GYROTONIC® exercises, each movement flows into the next, allowing the joints to move through a natural range of motion without jarring or compression. These carefully crafted sequences create balance, efficiency, strength and flexibility.   
Classical Pilates is an exercise method developed by Joseph Pilates nearly a century ago. The practice is a system of exercises using special apparatus designed to improve physical strength, flexibility and posture and enhance mental awareness. Classical Pilates focuses on a systematic approach to conditioning the body. It is a safe and corrective form of movement focusing on a series of mat exercises and exercises with various pieces of apparatus such as the Reformer, Wunda Chair, Cadillac, Highchair, and Tower/Wall unit. There are also other pieces of apparatus such as the Magic Circle, the Foot Corrector and the Toe Corrector to name a few. Urban Body San Jose is a fully equipped Classical studio with top of-the-line equipment. The work emphasizes both precision and flow exercises with the equipment working both control and stamina. During practice, you will learn the six principles of Pilates: Concentration, Control, Centering, Breath, Precision and Flow.

Q: What is unique about what UBSJ brings to the community?
MY: Urban Body San Jose brings the community the antidote to the Silicon Valley culture.  As the wife of an MIT educated, PhD, high tech Silicon Valley manager, I understand firsthand the stresses on the body and mind of the community that we serve. I am passionate about integrating our offerings to the high-tech community that we serve. This community is highly intelligent, as is the work we teach at Urban Body. It is a perfect fit. One aspect that differentiates us from others is that both Gyrotonic and Pilates are breath based, mindful, profound approaches to movement. Both modalities ask for a deeper level of awareness in your body.  I liken Pilates and Gyrotonic to dancing a lead role in a ballet or conducting an orchestra with your muscles. Both modalities give the practitioner a performance and precision element which encourages this deep level of mindfulness. 
In addition to this, I am personally excited about our Pilates Teacher Training program at Urban Body San Jose.  We are passionate about creating teachers in the studio and facilitate this by hosting an in-house Urban Body San Jose Pilates Comprehensive Training Program. It is a 450-hour training program taught by Shannon and I. We are the only studio in San Jose to host our own comprehensive training program and we are very proud to present this unique offering to our community. In addition, Shannon was just promoted to a Gyrotonic Level 1 PRE-TRAINER. We will soon be able to host our first pre training course for Gyrotonic at Urban Body San Jose in which I will be a student. Also, stay tuned for future continuing education courses being offered for teachers and clients alike in our small but mighty studio!  

Q: What is the most meaningful to you about your work at UBSJ?
MY: There is a Joseph Pilates quote in our studio that strongly resonates with why this work is so meaningful to me.  "The mind, when housed within a healthful body, possesses a glorious sense of power." Being co-owner of Urban Body San Jose gives me a huge platform to reach and empower more people than I ever could alone. It gives me a sense of being part of something larger than myself.  I truly believe that the work we teach and the team of 11 trainers that we have, can change the world, one body at a time. Happy humans feel good in their bodies and hold in high value the experiences their bodies can give them when they are healthy and without pain. We can actually help people achieve this and that is very satisfying to me. 
Q: What is your life like working outside of UBSJ?
MY: Outside of the beautiful, peaceful, clean, tidy studio that I co-own, life is much different. In fact, it couldn't be more opposite! As the mother of a 7, 5, and 2-year-old, the struggle is real every day. I constantly remind myself to breathe and try to remember that Joseph Pilates advocated in his book, 'Return to Life', for balance and play to be an important part of our lives every day. Contrary to my previous ideas, I have come to terms that being a mother actually strengthens my game and makes me more qualified to face the challenges that running a small business present. Also, I am completely and totally blessed with an incredible husband who is truly a partner. He understands and supports my passion and without him, none of this is possible. When we are not working, you might find us hiking with the kids, sipping a glass of red wine while cooking together, or doing maintenance on the Gyrotonic and Pilates equipment. We are incredibly grateful for the life that we share in the beautiful Bay Area. 

Q: What is the greatest fear you've had to overcome to get where you are today?
MY: Self-doubt ... in the dance world, there is a culture of perfection that is prevalent. I have matured and found strength inside myself to overcome it; however, sometimes the voice of self-doubt still rears its ugly head. 
Q: Can you tell our audience one of the most memorable moments in your career? 
MY: It was a Tuesday morning and I was preparing the studio for my first client of the day.  As I finished up, she walked into Urban Body San Jose with a lovely bunch of lavender from her garden.  She handed it to me and thanked me for what I do for her to enhance the quality of her life.  She explained that it was her birthday and that she had just received a clean bill of health from her Doctor.  She expressed her gratitude to me for teaching her Pilates, keeping her body strong, and her mind sharp! I was humbled, honored and touched by how much our clients value the work that we teach at UBSJ. 
Q: What is one lesson you've learned in your career that you can share with our audience? 
MY: Every choice that we make has consequences. We can win or lose by the way we choose.
Q: Which woman inspires you and why? 
MY: Shannon Bynum Adams, my business partner and founder of Urban Body San Jose, is a true inspiration.  She is an incredibly caring person who is also an amazing businesswoman.  I am so honored to be able to learn from her and work together to build our company.  
Q: What are some of the challenges that you feel women face today?
MY: Men and women alike struggle with finding balance in their lives. I feel that the struggle is more complicated for women because we must deal with, pregnancy, breastfeeding, and having to prove ourselves again after returning from maternity leave.  Not to mention that many of us are the default parents and have to struggle with finding reliable childcare, putting dinner on the table, and running a household.  
Q: What advice can you give to young women who want to succeed in the workplace?
MY: I believe that working with a life and business coach can give you a great edge in the workplace. It was a very helpful process for me to go through as I was contemplating becoming a partner at Urban Body San Jose.  A lot of the writing exercises were tedious for me, but they were also very revealing, and it was time and money well spent. 
Four Things About Maria Yu

1. If you could talk to one person past or present who would it be and why?
Joseph Pilates!!  I would want to ask the man behind the Pilates method if we are staying true to his work and what more we can do to spread his Method to the masses. 
2. Do you have a favorite quotation?
"Change happens through movement and movement heals.
"Breathing is the first act of life and the last.  Our very life depends on it."
"Everyone is the architect of their own happiness".
(Famous Quotes by Joseph Pilates....I couldn't pick just one!)
3. If you were a superhero what would your special powers be? 
If I were a superhero, I would want the ability to multitask! 
4. What app can't you live without?  
My calendar app!  I put everything in my phone calendar app, and I live by it!