Her Designs Have Been Worn by Cardi B, Taylor Swift, Kristen Stewart, Kylie Jenner, Gwen Stefani, Janet Jackson, and Numerous Other Celebrities. An Exclusive Interview With Founder & Creative Director at YVY, Yvonne Reichmuth.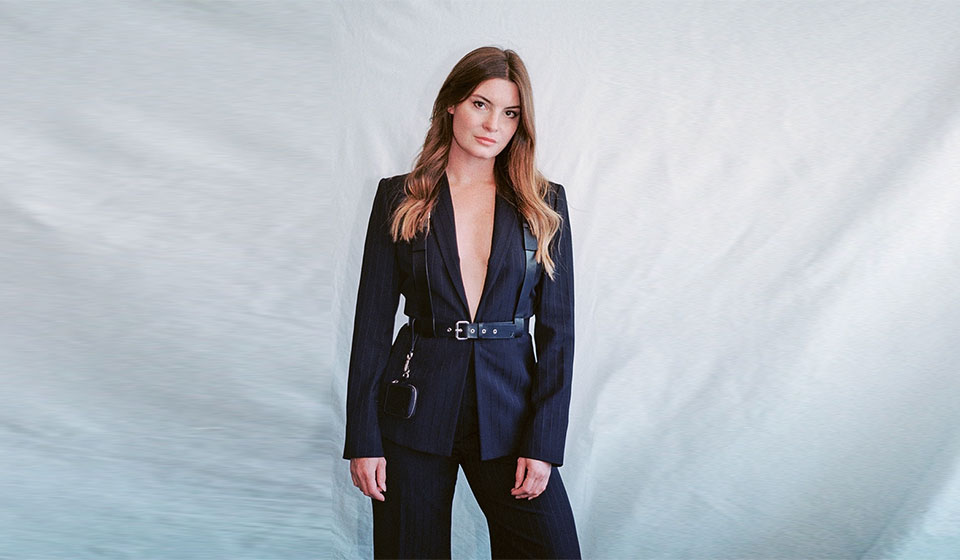 Yvonne Reichmuth - Wearing the UNI Harness from the YVY collection, photograph by Nura Sina Deon

Q: Who is Yvonne Reichmuth? 
YR: I am the founder and creative director of YVY GmbH, established in 2015. 
Within a few years I have developed my company into one of the leading independent brands for innovative, hand-made leather accessories, thanks to its unmistakable products.
YVY's leather pieces have been featured in magazines such as Vogue, W magazine, Interview and worn by celebrities such as Madonna, Monica Bellucci, Alicia Keys, Ricky Martin, Kristen Stewart, and many more.

Throughout this journey I have been awarded with several prizes including the Swiss Textiles Prize for Young Fashion Entrepreneurs by Swiss Design Prize, Accessory Designer of the Year by Premium's Berlin Young Talent Award, The Future of Fashion Award by Premiere Classe Paris, Top 100 in Switzerland by Women in Business, amongst others.

Q: What brought YVY to San Francisco?
YR: at the invitation of Swissnex, I am bringing YVY to San Francisco to find potential partners with whom we can take the next steps in our young but successful company history.
Q: When and how did you come across the idea of founding your own fashion label?
YR: I have been designing clothes and being creative in all kinds of ways for as long as I can remember. Since I have always had a clear idea of how I want things to be, what I like or don't, it was clear to me that I wanted to build something of my own.
Q: How did YVY achieve its breakthrough? 
YR: Through respectful ambition, perseverance, joy in the cause, a clear vision and a good sense of the zeitgeist.
Q: What are the challenges for a Swiss fashion label wanting to go international?
YR: Switzerland's reputation is good in terms of quality, but we don't have a big fashion scene, so the network is limited. Fortunately, I don't see YVY as a traditional fashion label, so I can also identify well with other industries in which we are strong.
Q: Have there been pushbacks in your career and how did you approach/handle them? 
YR: Of course, that's part of it. I try to learn from it and then check it off as quickly as possible and move on to the next challenge and opportunity.
Q: Which piece from your collection is essential to your personal closet?
YR: The Spirit Tote Bag, the Buckle Belt with different gadgets and our new Longines x YVY watch. 
Q: What is one word of advice you can offer to young women who want to reach your level of success?
YR: Be kind and work hard. And don't forget to play. 
Q: Can you tell our audience one of your most memorable moments of your career?
YR: When stars (like Monica Bellucci, Gwen Stefani, Madonna) wear my pieces that I adored as a teenager, unaware that years later my leather pieces will cling to their bodies. There's something surreal about it.
Q: At the start of your career, what do you wish you had known? 
YR: That I will be really good at what I do.
Q: Which woman inspires you and why? 
YR: A lot of my customers, strong independent woman that say, do and wear what they want. 
Q: What advice would you give to young women who want to pursue their dream and start a business? 
YR: It's harder than you think. But if you don't let that put you off, it will all be worth it.
Q: Can you tell us how you manage your work life balance?
YR: I can hardly switch it off completely anyway, so I try to enjoy the fact that the two areas are intertwined and make for an exciting and beautiful whole.
Q: What's your advice for women in male-dominated fields?
YR: Stay true to yourself, fortunately there are many intelligent men who also appreciate female strengths. 
Seven Things About Yvonne Reichmuth

1. What celebrity would you like to meet at Starbucks for a cup of coffee? 
Steve Buscemi
2. What's your favorite thing to do in your free time? 
Swim.
3. What's your favorite international food? 
Pizza forever
4. What TV shows did you watch when you were a kid? 
The A-Team. 
5. If you unexpectedly won $10,000, what would you spend it on? 
I'd book a weekend away and invest the rest in YVY. 
6. Favorite Dessert? 
Snickers ice cream, I might have an addiction. 
7. What's your signature drink? 
Dark & Stormy.