She's Served as Past Presidient of SF General Hospital Foundation, She's Currently the CEO at Breast Cancer Prevention Partners, An Interview With Amanda Heier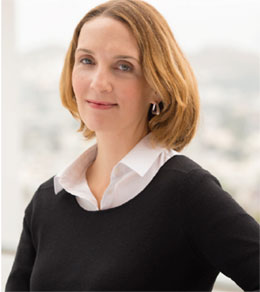 Q: What is San Francisco General Hospital Foundation about and what do you do?
AH: Our mission statement is broad – "to promote excellence in research, education and care for all at Priscilla Chan and Mark Zuckerberg San Francisco General Hospital and Trauma Center." To do that, we take diverse approaches to support the work of the hospital – from our recently completed Capital Campaign, which raised a historic $141 million, to our Hearts Grants program, which gives approximately $500,000 each year to hospital programs to help them meet their needs, everything from state-of-theart technology to teddy bears and stools for a children's waiting room. Since 1994, we've raised over $220 million to support the hospital, its staff and its patients.
Q: What do you love most about San Francisco General Hospital Foundation and the work you do?
AH: Our office is close to the hospital, and when we are on the hospital campus we are continually inspired by the work of the staff and gratified to see the grateful, often emotional, responses of the patients. We know the hospital is the safety net for the city, treating one in eight San Franciscans each year, and it's incredibly rewarding to know that our work makes a difference in people's day to day lives, especially our most vulnerable patients. We have a talented and dedicated board and staff, and for a small group, we produce amazing results. All of this makes me feel I am at the center of positive change and energy.
Q: How has San Francisco General Hospital Foundation made a difference and what impact do you still wish to see San Francisco General Hospital Foundation make?
AH: In 2008, the city passed a bond measure that allowed for construction of our beautiful new hospital building. The city also identified additional funds earmarked to equip the new building, but not the total amount needed, so the task of raising the funds to fully equip and furnish this state-of-the-art structure fell to us. The task was daunting, but through dedication of our Capital Campaign team and the incredible generosity of our donors, we were able to raise everything needed to allow the hospital to open on time in May, which will affect tens of thousands of San Franciscans and visitors to our beautiful city. We are able to make a great impact on the San Francisco community and northern San Mateo County, by helping to support so many health programs on campus at Zuckerberg San Francisco General that are national models and centers of excellence.
Q: What is so special about San Francisco General Hospital Foundation and how can people make a difference?
AH: Again, we operate with a very small staff, a diverse and talented group from a variety of backgrounds who share the desire to use our skills to make a difference. We're always grateful to receive donations of any amount. Or, if anyone wished to volunteer a few hours a week at the hospital, that would be much appreciated as the need is great. While the Foundation is the fiscal manager for the hospital's Volunteer Services program, any questions regarding volunteer opportunities would ideally be directed to the Volunteer Coordinator. I am sure your readers would find the energy at the hospital is amazing, and the work highly rewarding.