Meet Jessica Aguirre, News Anchor NBC Bay Area News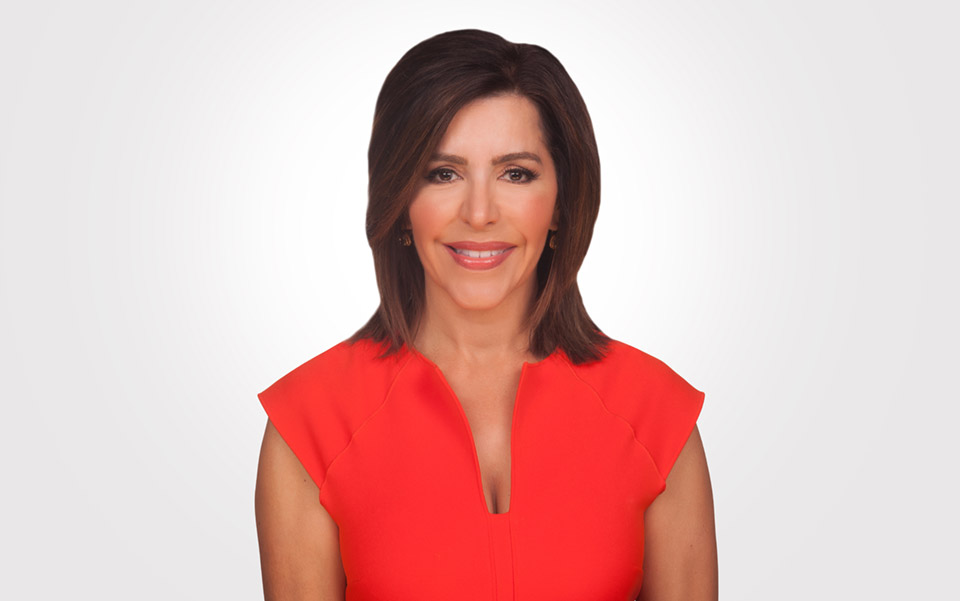 Q: How did your career start as a news Anchor?
JA: My career started in Miami, way before I was a news anchor as an intern at the local Spanish Language television affiliate for UNIVISION.
I was at the University of Miami when the woman I worked under suddenly quit and in a "Broadcast News" (movie) they turned to me and said "can you do her job? You are hired ". From that moment on I went to school during the mornings and worked a night shift at the TV station until I graduated doing a variety of jobs from production assistant, prompter, assignment desk, producer and after I finished school I became a reporter in Spanish.
It was great training it helped me really have a grasp of how the entire news operation works and what it takes to get a story on the air.
A year later I got a call from the CBS station in town they asked me if I wanted to switch to English Language, I said Yes!
My next jump was to weekend anchor and eventually full time, Monday through Friday primetime anchor.
I worked in Miami and Los Angeles before arriving in the Bay Area in 1998. I have always been a reporter at heart, I love being out in the field covering a story and really seeing it unfold for myself.
Q: What is a typical day like for you?
JA: There is no typical day! In theory, my schedule is 3 to midnight at the studio. In reality, it could include shooting a story in the morning, racing to some breaking news somewhere in the Bay Area, hosting a charity luncheon, doing a promo shoot, it's unpredictable. Let's just say I carry two cell phones and I listen to satellite news radio in my car…I could not name a music radio station if I had to.
Q: Can you share with our audience one of your most memorable events you've covered?
JA: I have had so many memorable experiences, some historic, some heartbreaking, some adventurous, some silly.
My kids always tease me that I can't remember all the people and things I have done and it's true I am always deleting from my memory bank to make room for more. I have covered natural disasters like Hurricane Andrew and more recently the North Bay fires, manmade disasters like the Oklahoma City bombing and "9-11".
I have traveled to report on immigration issues in Cuba, Princess Diana in England, the Olympics in Brazil, that is the beauty of this job, it is never ordinary so it's very difficult to single out one great event.
I have had the opportunity to interview Presidents, movie stars even the Pope. However, for me as a reporter, the most satisfying stories are often about ordinary people doing extraordinary things —those are the interviews that stick with you and make you reflect as a person.     

Q: What's the toughest part of your job?
JA: From a personal perspective it's the very nature of the job that requires that "it" be first in your life. I have missed many birthdays, holidays, vacations and back to school nights. When there is breaking news you have to go without hesitation because your commitment has to be to the community, often before your own family. In many ways, it is like a first responder, when things go bad and everyone is running home to take care of their loved ones it is the firefighters, police, and reporters that are running toward the mayhem.
On a professional level, all that "mayhem" takes a toll on your psyche. I am the most prepared person at every event because I always think something could go wrong. I see potential danger everywhere! When I was the class mom at my girl's schools I would book the field trip buses, and everyone knew I would inspect them before anyone got on. I am a worrier and all my fears are on a grand news scale!
Q: What do you like the most about living in the Bay Area?
JA: I love the diversity of the Bay Area from the people to the landscape to the opportunities that are available.
You forget how beautiful it is here and how much there is to do until you have out of town guests. You have a very sophisticated social scene in San Francisco and a wonderfully creative vibe in Oakland.
The peninsula is innovative and the East Bay, where I live still has a small-town feel. Go to the North Bay and it is breathtaking and healing. My only complaint Is the ever-increasing costs to live here, which I fear, will eventually force my own daughters, who were both born here, to move away.     
Five Things About Jessica Aguirre
1. What book are you currently reading? I like to read two books at a time: something fun and something meaningful.
My fun book that I just reread is "Class Mom "by Laurie Gelman. She is a longtime friend (we were in Miami together in the 90! s) who is married to Michael
Gelman from "Live with Kelly and Ryan".  We have led parallel lives getting married, having kids at the same time and being a "class mom". We used to laugh about our experiences and she was talented enough to actually turn it into a novel.
I am also reading "The Kite Runner "with my daughter. I like to read the books they have been assigned at school so that we can discuss them.
2. What's your favorite Movie?
I am so old school when it comes to movies! My co-anchor Raj Mathia makes fun of me all the time for making what he calls archaic movie references.
Here we go: "Gone with the Wind", I really fashion myself a Latina Scarlett O'Hara. The woman certainly had her flaws, but she was relentless and a survivor. "The Way We Were "no other movie compares when it comes to having a great gal-pal cry fest-night. "Little Miss Sunshine" I laugh every time I see it and am always reminded that no matter how crazy your family seems they are at the center of everything that matters.
3. Where's your dream vacation?
Africa! I want one day go on an African safari. Sleep in a tent in the savanna and see the animals in all their native glory.  
4. Who's been the biggest influence in your life?
My parents without question. They both were forced to immigrate to the U.S. from Cuba at the start of the Cuban revolution as teenagers. They left their comfortable lives in Cuba and started over in America in the 1960's when some parts of the country were not as welcoming to foreigners. My parents worked around the clock to provide for my sister and I and they never wavered about what we should be striving for. My father was optimistic, curious and funny. My mother, determined, strong and relentless. I am all those things thanks to them. 
5. What's your favorite food to cook?
Well, I do not cook a lot. I prefer to eat.  I do try and make Cuban food every once in a while so that my girls don't forget their heritage, but I must confess it's a messy production when I do!