Known for Keeping a Pulse on San Francisco's Competitive Market, Meet Real Estate Agent, Amy Levins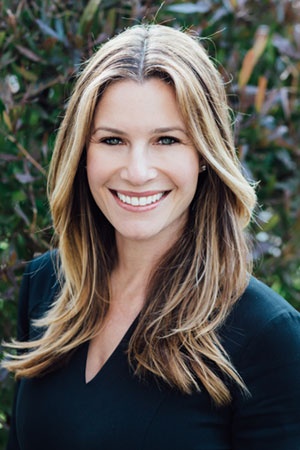 Q: You spent the early part of your career working in New York … tell us a little bit about your experience living and working in the Big Apple?
AL: Working and living in New York City was a great experience for me. Being a San Francisco native and a graduate of UCLA, I adjusted easily to the east coast city life. Soon into my Public Relations career, I became aware of my entrepreneurial drive. I realized one way to be successful at an agency was to develop and create new business. Eventually, I decided to hone my entrepreneurship into my real estate business and returned to my roots in San Francisco.
Q: Tell us how your career started in Real Estate?
AL: I had always admired my relatives who were successful in real estate. My grandfather ran his own brokerage, my uncle is a sophisticated developer and investor and my mother is a real estate agent. Once I recognized my desire to run my own business combined with my love of design, architecture and finding people their home, I joined my mother and we became business partners selling real estate in San Francisco.
Q: How long have you been in the Real Estate business?
AL: The end of 2018, will be my 13th year selling real estate in San Francisco!
Q: What types of property do you handle?
AL: We sell and represent buyers with respect to all types of residential real estate property in San Francisco and Southern Marin. We work with first time buyers, sellers looking to downsize, families relocating and everything in between.

Q: How is Social Media used in Real Estate?
AL: I like that Instagram is an instant channel of communication. I can share my point of view and express what I believe to be beautiful features of homes and neighborhoods around San Francisco. My network can learn about who I am as a person and an agent when they see the kinds of content I post. Additionally, I can share upcoming listings and sales with my network, so they can keep a pulse on the San Francisco market.
Q: What would a previous buyer and seller that you represented say about you?
AL: A previous buyer or seller would say; I am trustworthy, responsive, detail oriented and have the work ethic and customer service that anyone would be lucky to have on their side. They would say that I go above and beyond for my clients and their needs. I have the knowledge and expertise to successfully navigate the competitive market of San Francisco residential real estate.
Q:
Can you give us your insight on how you think changes in tax reform will play out in 2018 for Bay Area buyers and sellers?
AL: I do think the tax reform will affect some owner's deductions but because our market is competitive, and it often demands that purchasers buy with "all cash", I don't believe the changes will affect the market significantly.
Q: Any further predictions for the next two or three years?
AL: Owners of real estate in San Francisco have an asset that is valuable and continues to be valuable. I believe the next two and three years will continue to be a strong market for sellers and competitive for buyers. The demand continues to rise and there is not enough product to sell which drives the prices up. San Francisco is an international city, gateway to the Pacific Rim and close to the innovation in Silicon Valley. These factors contribute to job market stability and real estate value. San Francisco is a highly desirable place to live.
Q: Which woman inspires you and why?
AL: My mother inspires me every day. She kept her license current for nearly 20 years but only became an active salesperson in her 50s. She has embraced all of the technology changes in our business and continues to know exactly what kind of guidance our buyers need and how to coach our sellers to do what is best when it comes time to sell. I have learned a lot from my mom and I know we both feel lucky that our special mother-daughter relationship has endured a working business relationship for all of this time. She has been a great role model and I believe our clients benefit from that as well.
Q: What are some of the challenges you feel women face today?
AL: I think women feel they need to be "good at everything." Trying to balance work life and personal life is an endless juggling act. Roles for women in the workplace and at home are evolving and changing.
Q: What advice would you give to young women who want to succeed in the workplace?
AL: The advice I would give to young women in the workplace would be to learn what your passions are and pursue them. Nothing is more satisfying than having a goal that is reached. But don't forget to have the balance in your life as well. Success in the workplace is not the only measured success.
Q: Can you offer advice to parents with daughters graduating from high school?
AL: The advice I would give to parents with daughters graduating from high school is to really listen and watch them. Expose your daughter to all kinds of experiences but let her find her true passion and drive. I think it is easy for parents to coach through what they want for themselves rather than being in tune with what their daughters might want for themselves.
Q: What would you say is your greatest professional accomplishment thus far?
AL: I feel great professional satisfaction and a feeling of accomplishment when past clients refer me new business. It does not matter if the property is a large house or a small condo, nothing is more satisfying than knowing that my efforts with that client inspired them to recommend me to someone else.
Five Things About Amy Levins
1. If you could talk to one famous person past or present, who would it be and why?
If I could talk to one famous person, it would be Oprah. She has overcome obstacles, followed her passions, broke down barriers and set new standards along the way. She has a grounded sense of self and a deep understanding of people. Her generosity, curiosity, and ability to listen have impacted our cultural landscape. I was fortunate enough to go to a taping of her show!
2. Which celebrity do you most identify with?
Several people have told me I look like and my voice sounds like Jennifer Lawrence (yeah right!). Of course, I enjoy this compliment, but it has also forced me to take a closer look at her projects and career. I think Jennifer is young, fresh and not afraid to use her platform and voice to speak her mind. She has experienced a lot of success at a young age but has remained humble and true. During interviews, she is funny, approachable and very real…those are certainly qualities I identify with.
3. Can you share with us one of your passions in life?
I have many passions, but I always say if I was not in real estate, I would have wanted to a designer…fashion, interior or even an artist…someone who produces or creates. I enjoy following architects and artists work that I admire.
4. Where's your favorite city?
My favorite city would have to be San Francisco. Even though I've lived in several other cities, in order to fully appreciate this city, San Francisco is home. I have deep roots and most of my family and friends live here. I love being on the forefront of innovation, creation, and change!
5. What app can't you live without?
I can't live without the Compass App. Compass is transforming real estate with our high tech, high touch philosophy. We are a startup company with a determination to make our industry better. We are a company of entrepreneurs building for entrepreneurs. The Compass app enables me to have streamlined communication with my clients, the ability to search and get information about any property all while I am on the go!
Amy Levins
Broker-Associate
CalBRE#: 01721826
891 Beach Street
San Francisco, CA 94109
m: 415.577.2343
www.thelevinsteam.com