A Conversation with Jona Denz-Hamilton, 94.5 Bay FM Midday Air Personality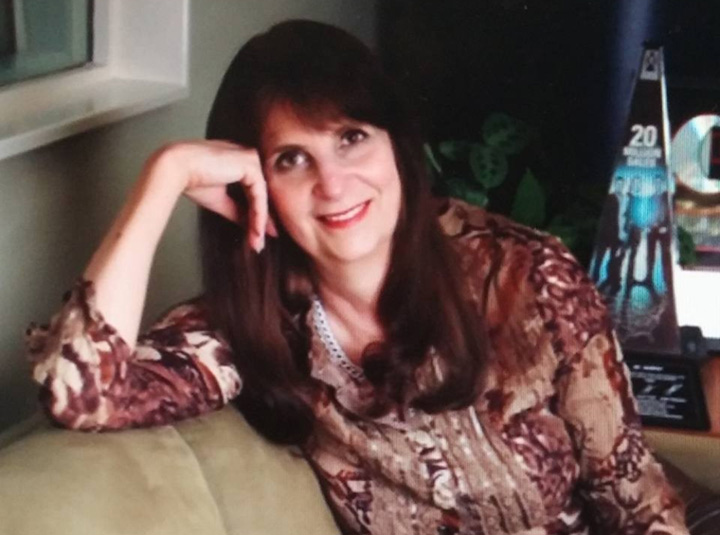 Q: When you were in high school, did you know you wanted to go into Radio Broadcasting as a career?
JDH: I was fascinated with communication since I was a little tyke. My electrical engineer dad was always building some kind of magical radio-type device. By high school, I was in love with my guitar playing and listening to LOTS of FM radio. I started actually doing radio in college--a bit of fun that turned into an obsession, LOL!
Q: How many years have you been on the air in the Bay Area?
JDH: All tallied, 40 in the Bay Area, five more when you add my radio management years in Monterey and Sacramento.
Q: Have you always been a midday radio host?
JDH: Midday has been home for a long time, but I spent about 6 years doing overnights on KOME, starting in my teens (I still have fans from back then). On KLOK, I did the afternoon-drive slot, and I spent a few years anchoring Metro Traffic mornings.
Q: What are some of the questions you get asked as a radio personality?
JDH: Is it fun? Do you meet rock stars? Can you host our event? Don't you get tired of playing the same songs? My answer is yes to everything but the last question. I never get tired of creating a show around music! (And I love what we play.)
Q: If you're on the air for 4-5 hours … what occupies that balance of your day?
JDH: I actually did a 6-hour shift for many years, 10 till 4 on KBAY. When I'm on the air, it's total concentration on keeping the show rolling, what I'll be talking about, prepping contests and features, and creating social media posts. Once I'm off the air, I work on preparing the next day's music for the station and my own show and writing blogs...and a little lunch too!
Q: You've probably been to a ton of concerts in your career … is there one that's most memorable?
JDH: I loved seeing Van Halen for their first time ever in town in the late '70s. I met them at my station (KOME) and later, they were really fun hosts backstage. When Blondie played their first show at the Keystone Palo Alto, I chatted with the band about my excitement over just buying an old 1964 GTO--and they played "Little GTO" for me that night! That's a couple of many memorable moments :)
Q: What are some of the changes you've seen in the Radio industry over the years?
JDH: The good is that with every freedom that seems to be taken away, a new creative source appears. I started in radio playing a free-form format, but had to dig through newspapers, magazines, and album covers for on-air content. Today, I don't pick all of my songs, but I have a world of information at my fingertips to enhance my show in a snap. The saddest thing I've seen is the loss of family-owned stations and small radio groups. I like my company's (Alpha Media) but when deregulation happened I knew that a lot of great stations would be lost as they were bought up en masse, and had their staffs thinned out to the point of no return.
Q: Tell us about some of the volunteer projects you've been involved with such as Voice Over Talent.
JDH: 99% of my volunteering is spent hosting fundraisers in person and sitting on boards of non-profits. One of my favorites is Operation Freedom Paws in San Martin, which matches service dogs with people in need, mainly veterans with PTSD. Another is the Teacher's Aid Coalition based in Morgan Hill, which provides classroom supplies to teachers so that they don't have to pay. I've hosted the annual fundraisers for both groups for many years. The people I meet are truly an inspiration.
Q: Do you have any advice you can share for those women who may want to pursue a career in broadcast journalism?
JDH: It depends on if their dream is television, writing, or radio. I think using a college's resources to become an intern can be very useful. Our sister station hires new announcers straight from college radio. Be advised that all three of these fields are very competitive, though.
Q: What would you say is your greatest professional accomplishment thus far?
JDH: I really enjoyed being a Program Director a couple of times but being able to say that I've been able to share my day with listeners on "BAY" for over 22 years is something really special.
Q: Is there something else you would like to accomplish?
JDH: I still like the idea of doing radio management work, but I'd love to be able to continue doing what I do as long as I can.
Q: Which woman inspires you and why?
JDH: You know, I think it's got to be someone who is great at making people laugh, who has class and brains. Betty White is a great inspiration with her sense of humor and amazing appeal to just about everyone. She's been able to stay contemporary and continues to work in her field and express her passion as an animal advocate. 
Q: What are some of the challenges you feel women face today?
JDH: There's still the concern about getting paid fairly. And, sadly, sexual harassment happens. Thankfully, I've only heard about a few cases, first-hand.
Q: What advice would you give to young women who want to succeed in the workplace?
JDH: That would be the same advice that I'd give anyone, young, older, female, male. Show enthusiasm, be honest, try to be positive, keep lines of communication open with your managers.
Five Things About Jona Denz-Hamilton:

1. If you could talk to one person present or from history, who would it be and why?
It would be a kick to talk to Jimmy Stewart. My sons and I just have this thing about what a great example he set in his work and in real life.
2. What's the best advice anyone's ever given you?
You can do anything you set your mind to!!
3. Do you enjoy cooking?  If so, can you share some of your favorite meals you enjoy making?
My sons do all the cooking. Ask me about clean up tips--LOL! 
4. What app can't you live without?
Facebook keeps me very connected, and I must have Google Maps to chart my commutes!
5. Who is your favorite musical artist?
I've been a huge fan of Genesis since their Peter Gabriel days and have seen almost every show that they and Phil Collins and any of the solo band members have done. 
Jona Denz-Hamilton
945 Bay FM Air Personality 
10am-3pm
408-278-6352
www.facebook.com/jonadenz