Your Goal is Her Mission, Making a Difference is Her Practice, Meet Attorney Laura Mazza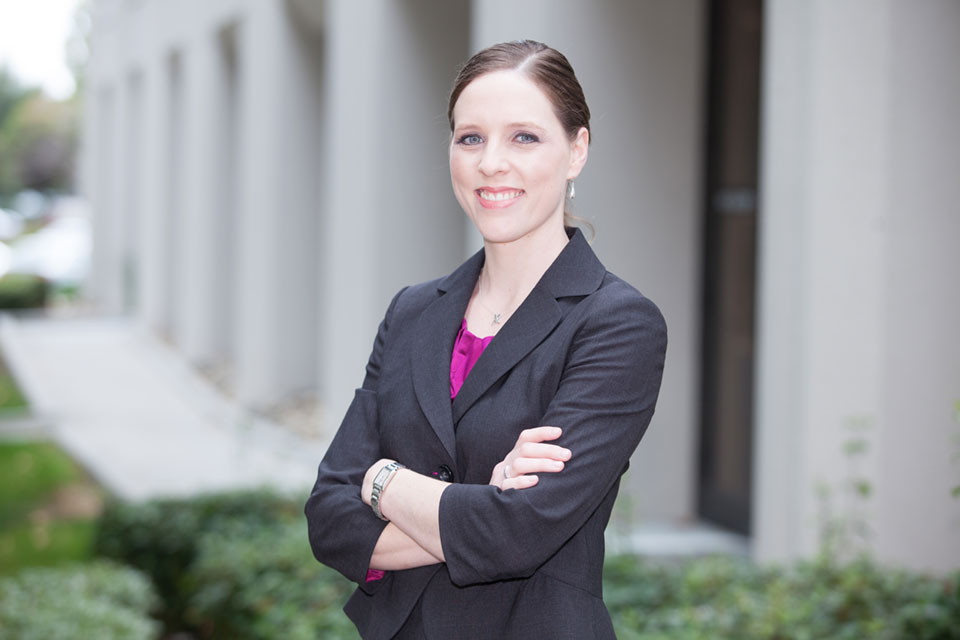 Q: After high school, did you have an idea of what your career path might be?
LM: I had every intention of becoming a doctor at that point in my life, which shifted once I started taking the pre-requisite classes in college and became a registered EMT, responding to medical emergencies on campus – I enjoyed it but realized medicine was not my calling.
Q: Share with us why you journeyed from Maine to the Bay Area?
LM: I spent a number of happy years in the bay area as a child before moving abroad to Cairo Egypt for most of Middle and High School. My longtime boyfriend (now husband) was taking a job here to work for Electronic Arts at the time I graduated from college, and since my family was still overseas, it seemed like a great place to come back to.
Q: What expectations did you have after graduating and receiving your law degree?

LM: I honestly just hoped to be able to find a job. 2008 was not the best year to be looking for work as a young lawyer, as many big firms had recently gone under or downsized, and the competition for open positions was fierce. 

Q: What type of cases do you generally handle? 

LM: Plaintiff's side employment law and personal injury. The majority of our practice is handling sexual harassment and disability discrimination cases on behalf of employees.

Q: If we interviewed all your past clients … what is "one" common word that comes up when they describe working with your law firm?  
LM: Fantastic.
Q: For those in our audience not familiar with the non-profit Attorneys Bettering the Community … can you share what the mission is and how it came about?
LM: ABC - Attorneys Bettering the Community was started in November 2009 by myself and four friends, all recent alumni from UC Hastings and Stanford law schools, searching for a way to connect with other attorneys while working to improve the communities in which we lived. Our mission is to bring attorneys out of their offices and into their communities to assist those in need doing work that usually is not law-related (since we could all use a break from that, as we practice law all day). We support local charities throughout the year assisting at community service events and have two annual events we put on ourselves each year – Holiday Care Packages for the Homeless (where lawyers and their friends/families come help us put together and distribute 360 care packages and sleeping bags to the homeless in SF's Tenderloin) and a fundraiser to raise money (and backpacks) for Samaritan House's Annual Back-To-School Backpack Drive (providing backpacks and school supplies to hundreds of low income youth in the Bay Area). 
Q: What's one lesson you've learned in your career that you can share with our audience?
LM: It's the people you work with that make all the difference. If you value, respect, and enjoy your co-workers/partners, anything can be enjoyable and fulfilling. I am so lucky to work with three other partners who mean the world to me and who I always want to be around.
Q: What are some of the challenges you feel women face today?
LM: Women handle the majority of the work at home (especially as mothers) even when they also work outside the home full time. Trying to balance work and family life can be overwhelming for working mothers in particular. Men often have wives at home handling much of the household/child rearing work for them, so competing in the workplace with men who do not have a second job to perform when they get home puts working women at a serious disadvantage. 
Q: What advice would you give to young women who want to succeed in the workplace?
LM: If you can't find a job that fits the life you want to lead, create one for yourself with other like-minded women (and/or men). You can succeed if you believe in yourself and have a solid team supporting you.
Q: What's your advice for women in male-dominated fields?
LM: You don't have to act like a man to be as successful as one, but you may need to be more creative and less modest. Don't be afraid to ask for what you want (whether it be a raise, promotion, etc.) and showcase your strengths. 
Five Things About Attorney Laura Mazza

1. If you could talk to one famous person past or present, who would it be and why?
Michelle Obama, because she is compassionate, friendly, smart, successful, and fierce all at the same time, and possesses so many of the traits and talents that I aspire to have. Plus, she just seems like a fun person to hang out with.
2. Do you have a hidden talent?
I'm a singer/songwriter in my spare time and play in a band.
3. If you were a superhero, what would your special powers be?
The power to heal.
4. Favorite city?
Edinburgh, Scotland
5. Have you ever met anyone famous? Who?
Yes. I recently met Congresswoman Jackie Speier and she was as amazing as I thought/hoped she would be.