Two Time Cancer Survivor & Book Author of "Been There, Done That". An Exclusive Interview with Amor Traceski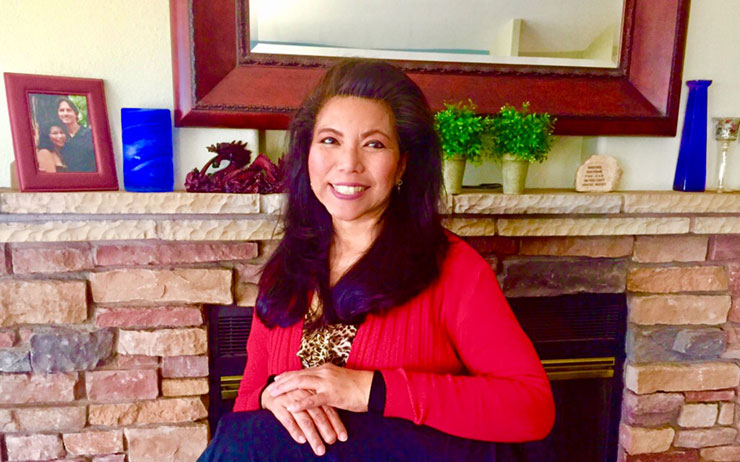 Q: What advice would you give to women battling cancer?
AT: When you're given a cancer diagnosis, it may feel like you don't have a choice. But, the fact of the matter is, you do! While your medical team uses surgery, chemotherapy, radiation, medications and other therapies to cure, shrink or stop the progression of cancer in your body, you play a vital role in the elimination of cancer from your system. Now is the time to actively participate in your own healing, not the time to passively wait for something to happen. Now is your time to fight with everything you've got, not the time to allow negative, disempowering thoughts to take control over your mind. By summoning the determination and strength within you, you will find that you can and will take on the behemoth that is cancer. Think of the cancer you're battling as garbage. "Garbage in, garbage out" was the motto that helped me through the process of what I had to do during both of my cancer battles.  
View anything negative related to your cancer experience – physical, mental, emotional or spiritual – as garbage that you need to clear from your body in order to heal. Have your daily goal be to remove all the negatives that threaten your space. Yes, it's difficult, but it's possible and so worth it.

Q: How did your diagnosis with cancer impact your corporate career?
AT: When I was diagnosed with breast cancer, my corporate career as a Human Resources Executive was temporarily stalled.  This period of time allowed me to regroup and rethink my career priorities. I reflected and asked myself a lot of questions, e.g. Do I want to continue climbing the corporate ladder?  Is all the stress that comes with a high-paying job in a fast-paced environment worth my health? What am I trying to prove or who am I trying to prove it to? Realistically, what kind of job will satisfy my needs? 
After pondering all of the above, I decided that I didn't need to prove myself to anyone; I had already broken the glass ceiling. And, however exciting and financially rewarding an executive position can be, the stress that comes with it is definitely not worth sacrificing my health. So, I sought a lower management position with lower pay and fewer responsibilities. Unfortunately, I struggled and, eventually, left to head the Human Resources department of a "small" company. Interestingly, when I was there, that "small" company had a huge growth spurt and I was, again, working in a high-stress, fast-paced environment. Before I knew it, I had returned to the same bad habits that, I believe, contributed to my getting breast cancer, i.e. unhealthy eating of junk food, no exercise and very poor sleep habits. Ultimately, I resigned my HR position in order to rest and recuperate.

Q: What support services did you receive during treatment and how did they help you maintain a better quality of life?
AT: During treatment at the El Camino Hospital's Cancer Center, I received over-the-top, exceptional service from my medical oncologist Dr. Shane Dormady, nurse practitioner Katie Kuhl, oncology nutritionist Charis Spielman, in concert with the amazing oncology nurses and the wonderful Cancer Center staff.  
Everything ran so efficiently, from the scheduling of my appointments, to the blood draws, to the chemo infusions and, finally, to the billings, which they helped me with so much. I was truly amazed by how seamlessly the team operated. Whenever I had a problem or needed to make a change or had questions, Dr. Dormady and his team accommodated my every need willingly, without hesitation and with the utmost compassion! I cannot stress enough how their exceptional service took so much weight off of my shoulders and enabled me to focus on healing. I truly felt valued and cared for; something I did not experience as much at other hospitals.

Q: What inspired you to write and publish a book?
AT: As I was going through the various cancer treatments, e.g. radical hysterectomy, chemotherapy, thoracentesis, MRIs, PET scan, etc., I found myself constantly researching information about the different procedures, medical terminologies and any advice or tips to help me understand my treatment, cope with their side effects, including the negative emotions I wrestled with.  
I scoured the Internet, libraries, bookstores, literature or magazines in the waiting rooms and was able to find one survivor I could talk briefly talk to. Not only was the process of researching information exhausting and time-consuming, it was also confusing and, at times, overwhelming.    

As I neared completion of my ovarian cancer treatment, I decided it was time to write a book that would help cancer patients through their journey. Not a regular book, but a reference manual or guidebook, much like the "What to Expect When You're Expecting" book for pregnant women. It is a book I wish I had access to when I was going through treatment and the survivors featured in my book agree.

Been There, Done That: Practical Tips & Wisdom from Cancer Survivors for Cancer Patients was written not only for readers to learn about each survivor's experience and practical advice in their own words, but it was also written to inspire courage and strength in cancer patients, so they realize that they too can endure, triumph and thrive in life, despite cancer.         

Q: What advice would you give to young women who want to publish a book?
AT: Getting your book published is a wonderful goal that creates a lot of excitement. No doubt, after you complete your manuscript, you want to get your book out into the world for people to read and enjoy.  
Before you can get your book published, you should learn about and understand the world of book publishing, which is like a really complicated maze. There are many hidden costs and, unfortunately, scams abound. Do your due diligence on each company you look into. It's wise to check if there is any derogatory information about the publishing company you're thinking of working with on the Better Business Bureau's website https://www.bbb.org/

I recommend you join Alliance of Independent Authors https://www.allianceindependentauthors.org/. The website provides a lot of useful information for independent authors, like a watchdog list of publishers to avoid (basically scams). Members support each other by answering questions posted online or providing ideas and ways to go through the publishing process.     

Q: How did you meet the other patients you interviewed for your book and why were their insights so important to share?
AT: Connecting with all of the featured cancer survivors in my book happened organically. Whenever I told someone about the vision for my book, i.e. to help cancer patients cope with their treatments and learn to adjust to life with cancer, they responded positively. Some of the cancer patients were members of my local Lions Club chapter, others were in treatment at El Camino Hospital with me and many were neighbors and acquaintances I met through my journey.
The stories and insights of each of the 19 featured cancer survivors are truly important, because in trying to find ways to cope, cancer patients need to have available to them resources from other cancer patients and survivors who have had similar experiences and who they can relate to. In order to learn how to navigate the complicated maze that is life with cancer, they also need to have an assortment of proven ideas and practical tips they can choose from. All this is information that only those who've actually experienced cancer can provide.    

Five Things About Amor Traceski

1.If you could talk to one famous person past or present, who would it be and why?
The Dalai Lama. His words and teachings on happiness, peace, simplicity, honor, love and kindness have had such an impact on my life. He's quite extraordinary and inspiring in both the strength of his presence and authority, as well as his simplicity and down-to-earth nature. Definitely a role model for everyone.  
2. What do you do in your spare time?
Outside of working on marketing my book, I volunteer at the Sierra Nevada Memorial Hospital Cancer Center in Grass Valley and with the Penn Valley Lions Club.
I enjoy spending time with my life partner Bill and love reading, cooking, visiting family and friends and watching my favorite shows (various TED and TEDx Talks, The Voice, America's Got Talent, So You Think You Can Dance, Top Chef, Chopped).

3. If you were a superhero, what would your special powers be?
The power to destroy evil, including all the world's ills.
The power to help unhappy or disturbed people find happiness and peace.
The power to unite all nations and bring about world peace, respect and understanding.
4. What's the best advice anyone's given you?
"Whatever you do, do it with kindness and respect." My dear friend Sidonie Sansom gave me that advice when I was going through my divorce. It helped me to focus on doing the right thing, no matter how hurt I was. I'm so glad I followed her advice, because in doing so, I stayed true to my values and my daughter definitely benefited from it.     
5. Your favorite season?
Spring. It represents rebirth and renewal. When the trees blossom, the grasses grow, flowers bloom, the birds sing, the squirrels scamper everywhere, the sun dances in the sky … it's like everything happily comes alive again! There is a lot of vibrant energy everywhere, which creates such a feeling of joy and peace with me!