Meet Denise Bevers, Co-Founder & COO of KindredBio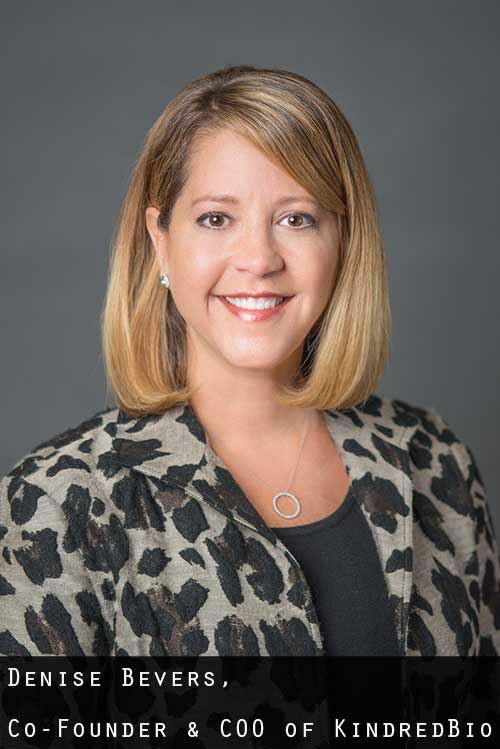 Q: Why/how did you get into the animal health industry?

DB: For over 20 years I worked in the human drug development and medical communications industries, managing dozens of products and development programs from Phase I though Phase IV. While I enjoyed what I was doing, I wanted to do something that also paired with my love for animals and degree in zoology. I was fortunate to be able to leverage my years of experience in drug development and investor relations to co-found KindredBio, a company dedicated to developing cutting-edge therapeutics for cats, dogs, and horses. As the parent of frogs, hermit crabs, mice, rats, bunnies, hamsters, and a dog as a child (not all at the same time), my mother is not surprised by my success or that of KindredBio!

Q: Who has been a career inspiration to you?

DB: I met my co-founder and KindredBio CEO, Dr. Richard Chin, when we worked together at Elan Pharmaceuticals. Right away, I felt connected to him and his business philosophies. As a Harvard-trained physician and former Rhodes Scholar, with a track record of almost a dozen drug approvals, I knew I could learn from him and that my clinical operations expertise and management skills would benefit him as well. When we left Elan, we kept in touch and I always knew we would work together again. Then, in 2012, we began to talk about how we could pair our decades of experience and love of animals to start a veterinary biopharmaceutical company. That's when we started KindredBio and never looked back. I feel very fortunate to be in partnership with Richard because our diverse skill set and management styles that really complement one another.

Q: People think of pets as part of their family, how does that fit in with what you do?

DB: Our fury companions have truly become members of the family - proven by Americans spending $700 million each year on Valentine's Day gifts for our beloved pets. The evolution of the pet as a family member has been relatively short. In my lifetime, I have seen dogs move from the yard, to the dog house, to a sequestered room behind a gate, and now, 40% of pets sleep in bed with their pet parents! In 2016, pet owners in the U.S. spent over $66 billion on their pets, and increase of over 10% from the year before. There is a critical need, and willingness to pay, for innovative medicines for our pets. We found that there are few companies dedicated to developing such therapies for companion animals, with a market in dire need, which is why we founded KindredBio.

Q: What's KindredBio's mission?

DB: Our mission is to bring our pets the same kinds of innovative, safe, and effective medicines that our human family members enjoy. Our core strategy is to leverage the billions of dollars that have been invested in human drug development by modifying, improving, and repurposing pre-existing drugs and pursuing biological targets that have already proven to be safe and effective in humans.

We have developed a team of veterinarians, scientists, and operational experts who love animals and want to develop therapeutics that have been appropriately studied and, eventually, approved by FDA for use in pets. The passion that we have for pet wellness is infectious throughout the organization.

Q: Why did you decide to headquarter the company in Silicon Valley?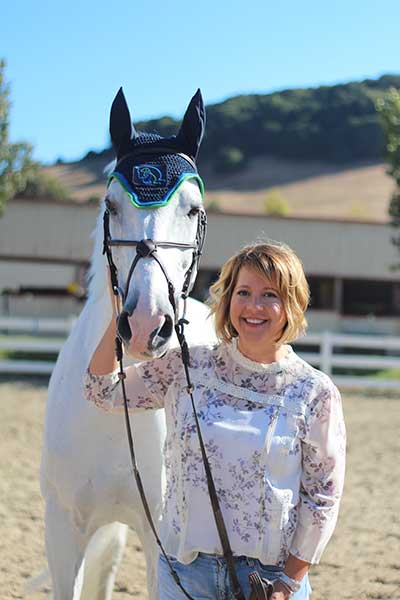 DB: We love the energy that comes with working in an innovative hub of technology like Silicon Valley. The bay area is an epicenter of biotechnology and Richard, who spent years as the head of Clinical Research for biotherapeutics at Genentech, has recruited a world-class team of scientists and protein engineers to develop our cutting-edge biologics for cats, dogs, and horses.  Because of the talent in the area, we have put together an incredible team that is innovating in lockstep with human breakthroughs, such as those in immunotherapy. Importantly, the energy of the valley, along with the great weather and access to outdoor pursuits, is what allows us to attract top talent to our organization.

Q: What were some of the challenges you faced as a woman raising money on Wall Street?

DB: I grew up in biotech and pharma in California, and was fortunate that I did not feel limited by a glass ceiling in my career trajectory. It was quite apparent to me as we began our testing-the-waters meetings and eventual IPO roadshow that there were many fewer female decision-makers on Wall Street. There were entire days on the roadshow when I would not see a single woman at the table. I have always felt that, regardless of gender, it is critical to know your business and industry better than anyone else in the room.  Because we had a very strong business plan that I knew inside-and-out, I did not feel a need to alter my pitch because of my gender. The fact that my passion for animals and KindredBio shines through my pitch, perhaps more because of my delivery as a woman, is only an asset.  I am happy to say that, in the nearly four years as a publicly-held company, I do meet more and more female investors at the table who are decision-makers.

Q: Tell me about the drugs you have in development and how they help animals?

DB: We are currently anticipating FDA approval and launch of Zimeta™ (dipyrone injection), a novel, non-steroidal anti-inflammatory for the control of fever in horses, and Mirataz™ (mirtazapine 2% topical ointment) for the management of weight loss in cats.  It says so much about our team that we have two drugs under review by FDA in less than 5 years of founding the company. In addition to those products, we have approximately 20 products in development for a variety of diseases for cats, dogs, and horses.  In the future, we will be helping animals with autoimmune diseases, cancer, and metabolic disorders, to name a few.

Q: What is your advice for companies who are fundraising for their businesses?

DB: Tout your brain and your heart. Telling your story and conveying your vision is a huge part of connecting with a potential investor. Your heart will show how much you believe in what you are doing. Investors will see that. It's equally important to show your knowledge of what you are selling. Investors want to see that you know what you are talking about – from the industry and competitors to the product and the customer. Do your homework. Combine your passion and knowledge with drive and persistence, and you are well on your way.

Q: What is the best advice you've ever received?

DB: While my Mom didn't verbalize advice as much as she led by example, she taught me to follow my passion, regardless of where society pushed me (or even where she thought I should be heading). She raised two girls as a single parent and worked two jobs at once, as a special education teacher and a waitress.  She also got her Master's degree before I graduated high school and found time to attend the Academy of Dramatic Arts to fulfill her creative needs. As a child of the 70's and 80's, she was a phenomenal role model, who taught me that a woman could be anything she set out to be. She supported my every whim as a child, as long as it was something I was passionate about. I saw the way she loved teaching and nurturing children with learning challenges, and the fulfillment she received in return, which showed me how to have a rewarding career, driven by passion.

Q: What hobbies or interests do you enjoy when you aren't working?

DB: My husband, Lon, and I enjoy traveling, music, and theater in our spare time. We have had the opportunity to support theatrical productions on and off Broadway.  In additional to adventure travel, we find the dozens of concerts we attend each year to be a great way to be in the moment and relax.  We have recently become horse enthusiasts and owners of a grand prix show jumper, Wasco, as well as parent to a border collie, Betty, and two cats, Gladys and Glover.