It's The Healthy High
Speaking of Health
It's The Healthy High and Rewarding Joy We Feel
By Marina Gavric, Health & Fitness Training
www.marinagavric.com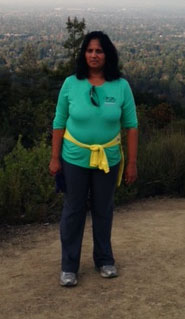 Reaching your fitness goals is not always so simple - but with determination, consistency and the power of accurate information – you surely can. Would you like a good example? Meet Madhu Ranganathan, who reached a point in her life when she told herself "enough already" … and made her health and fitness goals a reality (rather than simply a wish).

With a busy lifestyle, and a starting weight of 186 pounds, Madhu took the healthy high road in building the foundation to what is now her fitness success. Being in her 50's, this didn't help her in making the journey any simpler. For sure, wanting it, determination and sticking to it … this was and is key for Madhu, as it would be and is for anyone. As with anything, how much do you want it? Create a plan … and then let's go to work and make it happen.

Consistency in exercise and getting in the daily recommended activity of 30 to 60 minutes is important. Rain or shine, Madhu was determined and made it happen. We met twice a week, and to this day, the consistency has not diminished. Between sessions, Madhu repeats and perfects her form and strength with the program from previous sessions. Her commitment has surpassed many I have trained and worked with in the past. Can you see it and feel it, the difference? Yes - the results and feeling good-to-great came … and would continuously, energetically and enthusiastically speak volumes.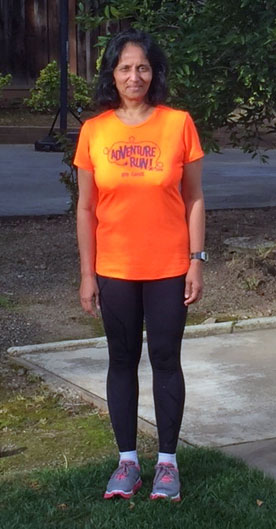 As a health & fitness nutritionist, Madhu took every nutritional conversation and tip to heart. She adapted in eating regularly and increased her awareness to food intake and quality, keeping even healthy fats in proper portions. Madhu took the time to discover new omelet recipes that would even have her step outside of her box of traditional Indian cuisine. She is a walking model that reflects "anything is possible" - at any age - as long as you stay positive, consistent and always keep discovery new and fun.

At times we all fear the possibility of going back to our unhealthy ways. Sometimes it can be a double serving for dinner, skipping breakfast, occasional overdoses of our favorite sweet or a big serving of healthy baked fries. Madhu has adapted that, no matter what the nutritional mishap, you pull up your socks and plug away at dealing with the consequences. Exercise consistency keeps you on track even when you steer away nutritionally.

Fitness is never ending, and Madhu takes this lesson to heart. Now at 145 pounds, Madhu is no longer on a weight-loss program. Instead, she is now on strength-build and weight-maintenance programs. This is now the name of her game and she's loving it. As an endurance athlete, Madhu makes weekly strides in improving her run time and is always signed up for a local 5k run. Her supportive and athletic family is behind her 100%. It now runs in the family. Nothing like a happy, healthy family.

As I always like to say: "Keep up the great work!" When it's a joyful habit, there's lots of joy and energy and feeling good vitality that will go a long way. Take care of it and it will take good care of you! … Stay Hydrated, Stay Focused, Stay Fit!