A Long-Time Animal Advocate & Shelter Volunteer. The Founder & Executive Director of Muttville, Sherri Franklin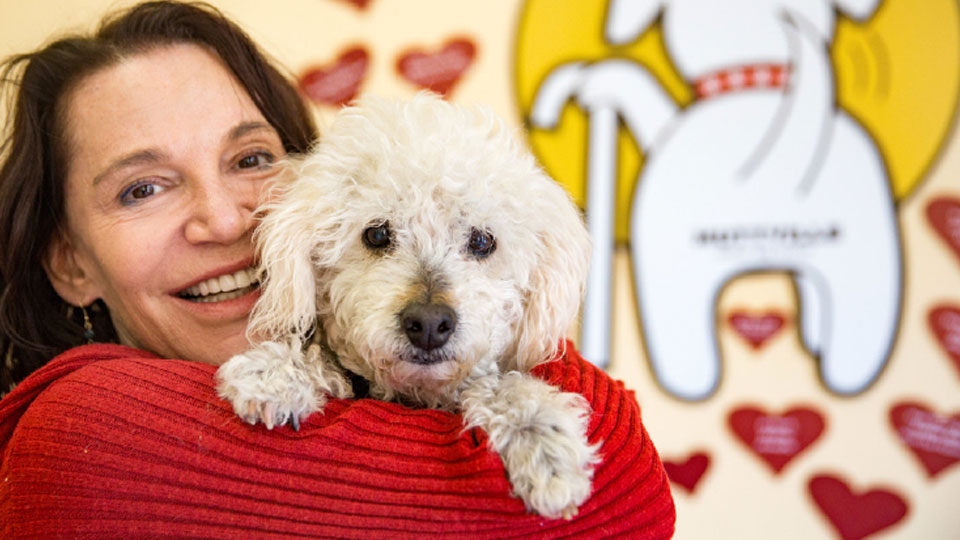 Q: What is Muttville about and what do you all do?
SF: Muttville is a senior dog rescue in San Francisco. We rescue dogs slated for euthanasia from all over California. So many shelters aren't equipped to handle treating, housing or finding homes for older dogs, and the seniors end up first to die. Many times we are the only thing standing between life and death for these wonderful dogs.
We have a special program, Seniors for Seniors, that matches dogs with senior humans. We waive fees for seniors and have special adoption counselors that assist in making a great match.
Q: What do you love most about Muttville and the work you all do?
SF: Working at Muttville is incredibly rewarding. We not only have the privilege of saving lives, but we see so much joy! We see the dogs on their way to happy new lives. Almost daily we get an email or a letter from an adopter with their stories and photos of their Muttville dog how the dog has brought something special to their life, made them happy to be alive.
Some of our success is bittersweet. We see so many people who need to give up a beloved pet due to health or loss, and it is so hard for them. But when we say we can take their dog, their relief is palpable. And we know that that dog is going to have a wonderful second home.
Q: How has Muttville made a difference and what impact do you still wish to see Muttville make?
SF: Muttville has rescued over 3700 dogs and continues to grow. One of the most gratifying developments is seeing how we've influenced the way others think about and treat older dogs. Other shelters have seen our success at finding great homes for these senior dogs, dogs that they considered unadoptable, so they are putting more of them up for adoption.
We want to continue to promote the human-animal bond, especially the impact a dog can have on the life of a senior citizen. We have an outreach program called Cuddle Club, we invite senior humans to come and cuddle, socialize and walk dogs. Many groups are now participating, making new friends and creating a community. Even if you can't adopt a dog, you can get some dog love!
Q: What is so special about Muttville and how can people make a difference?
SF: Muttville is the first cage-free animal shelter. Being in a traditional shelter is very stressful for a dog, and by offering our dogs a home-like environment, they stay more adoptable and are relaxed while they are meeting potential family.
But it's also good for humans! Muttville is not a sad place to go. It's fun and lively – it's like being in a big living room with lots and lots of dogs! We also have a large foster base, so many of our dogs go into temporary homes while they await their forever home. We want to make a great match, and we involve foster families and volunteers in the process as well as our own staff. We strive for success with every life we touch, canine and human.