Tracy L. Tate Jones, is the Founder & President of Beat the Streets, Inc. Read More about Her in Our Exculsive Interview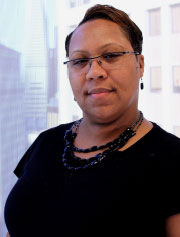 Q: What is Beat The Streets about and what do you all do?
TTJ: Our mission is to empower young adults with adequate resources in stimulating self-improvement through the achievement of educational and employment goals. BTS targets our community's young men and young women by providing answers to fundamental questions that all, if not most of them come across when transitioning between childhood and adulthood. We provide those answers through our many peer support services, which include educational support, vocational support, and life skills services. In doing so, we hope to improve the success rate among our youth and young adults, thus helping to positively impact our communities. We make such an impact by providing computer access and bi-monthly workshops in low-income communities to underprivileged, at-risk youth and training sessions presenting different educational and employment paths, as well as, enhancing their life skills.
Q: What do you love most about Beat The Streets and the work you all do?
TTJ: What I love most is connecting with the young men and women of the community and making a positive impact on their lives. I am like a mom away from home and the youth gravitate toward that. It's a loving, nurturing environment, where they are taught life skills that many may not learn at home. I love to mentor youth and young adults as they are at a stage in life where they are impressionable. Teaching them skills to empower themselves in life is our mission and primary goal.
Q: How has Beat The Streets made a difference and what impact do you still wish to see XXXXX make?
TTJ: As best said by one of the clients served name Jeremy Foster, "Beat the streets was an important component in my life. I was lost and confused on the streets doing lord knows what until I met this lady we called her Mrs. Tracy. She took me in like a son an helped me beat the streets by helping with resumes, job info, knowledge about life etc... I can say because of this organization I am a full time employee and a college student. I literally beat the streets." We want to see more stories like Jeremy's. We've mentored and guided many youth over the years and want to continue our mission of providing young adults with resources that best benefit them. full time employee and a college student and I literally beat the streets this organization is truly a blessing and I highly recommend it.
Q: What is so special about Beat The Streets and how can people make a difference?
TTJ: Since its inception in 2005, BTS core services has been providing young adults with resources in education, employment and life skills to promote the foundation of literacy, ethics and social responsibilities. BTS seeks to increase the number of high school graduates and the number of employed young adults. The services provided encourage higher learning and prepare young adults for successful employment. We are looking to increase our weekday services to include Tuesday and Thursday, 3-6pm to allow for daily computer access and one-to-one peer support. We are confident that with volunteer and financial support, our efforts will be greatly rewarded.