Q&A with Infoblox's WIN Executive Team

Infoblox - a global leader in delivering Actionable Network Intelligence to enterprise, government, and service provider customers around the world - has launched a global initiative entitled the "Women's Internal Network" (WIN) to in-crease the representation of women at the company.
The purpose of WIN is to build an internal support system to attract, retain and promote women in the workplace.
A global initiative of this magnitude can only be successful with active support at the highest level.
Bay Area Women Magazine caught up with the Executive Board for the WIN group …
• Jesper Andersen, CEO
• Sonya Andreae, Vice President of Global Customer Advocacy
• Norma Lane, Executive Vice President of People & Places
Read on to see what each has to say ...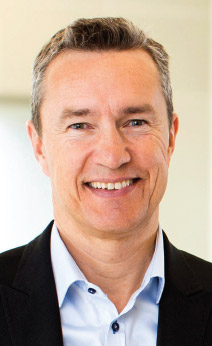 Q: What is the purpose of Infoblox's "Women's Internal Network" and what need will it serve?
JA: Our purpose is to build an internal support system to attract, retain and promote women in the workplace. Our primary focus is to expand the presence of women in leadership, enterprise direct sales, and engineering roles.
Q: As a company, what made you stop and say … "we need to create a WIN program?"
JA: We value diversity at all levels and in all job categories throughout the organization.
We're fortunate to have a diverse workforce, in general. However, we lack broad representation of Women in senior leadership and technical roles. We decided to create an internal network for women to learn together and from each other. Additionally, we want to support external efforts that inspire young women to pursue engineering and technology careers. This will help fill the pipeline with qualified candidates in the future. Collectively, we think we can make a difference. The result will be a more engaged and productive workforce, and ultimately a more successful organization.
Q: What goals do you hope to achieve and what is your time frame?
JA: We haven't established a timeframe or specific quotas to achieve. Instead, we're taking direct action to achieve our goals in everything we do. From recruitment, to employee development, outreach activities and mentoring efforts. Additionally, we're participating in a variety of community initiatives that align with our goal.
Q: How will you monitor the progress of WIN?
JA: We'll measure our effectiveness in engagement levels of women employees through our mid-year and annual employee engagement survey. Additionally, we'll measure our percent of women representation in leadership and technology positions.
Q: What do you think is the most significant barrier to female leadership?
SA: A primary concern is the lack of women entering the Engineering/technical profession resulting in fewer women available to assume leadership position in the high-tech industry. There are a variety of social and economic reasons that have resulted in an imbalance of women in leadership and technology. Many women don't have mentors at home to help shape their career aspirations. Others were preoccupied with fulfilling traditional roles of being a mother and/or caretaker, placing their career goals on the back burner. Additionally, there are still deep-seated biases that have existed for many generations. During the last few decades, I've seen a positive shift in this mindset. As a result, women are achieving parity in the workplace. Although we're seeing positive change in the workplace, it will require a sustainable change in institutional mindset to correct these biases over time. Male presence still dominates the boardroom and C-Suite positions.
Q: Why is tech the fastest-growing industry in the U.S. which is predicted to provide more job opportunities than all other professional sectors, still failing to attract and retain women in your opinion?
SA: I wouldn't say the high-tech industry is failing at attracting and retaining women in the workplace. Quite the opposite. I think we're making significant progress. More than ever, employers are sponsoring mentorships for women in technology and proactively pursuing opportunities to expand their representation of women, particularly in technical positions. Additionally, there are now many Corporate-backed outreach programs designed to attract and inspire women to enter high-tech careers. STEM and Code.org come to mind as two well-funded programs sponsored by employers in the high-tech industry. However, as noted earlier, it takes time to change mindset and practice resulting from generations of gender bias. Infoblox is one of many employers who are embracing this change in mindset by promoting women leadership in the workplace and sponsoring programs aligned with our beliefs.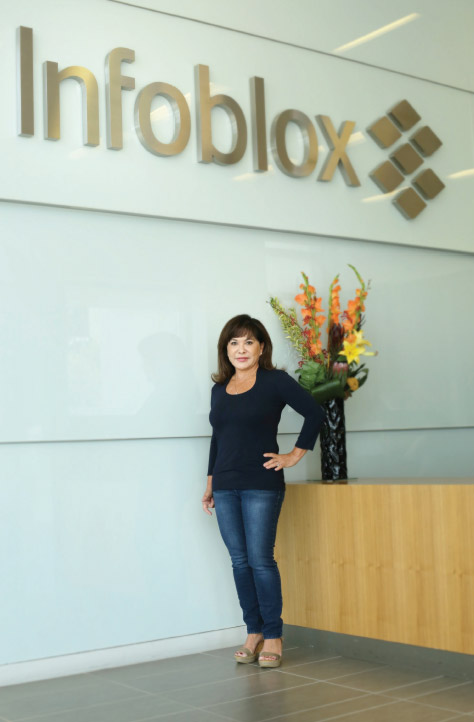 Q: Focusing on diversity in the workplace is an essential step in building a great culture. How has Infoblox responded to this challenge as a company thus far?
NL: Fortunately, we've built a great culture and a cool work environment which focuses on collaboration, respecting others, and having fun. ("We believe that a fun, caring, collaborative, and learning work environment will stimulate creativity and innovation that results in customer satisfaction and business success," said Jesper Andersen, CEO of Infoblox)
We also maintain a diverse work environment and fully embrace diversity in all areas of the company. Our challenge is finding qualified candidates in our senior management, direct enterprise sales, and Engineering environment. We're taking steps to sponsor programs (like Hour of Code) that promote women in technology through STEM and various professional associations (such as Watermark) who are also aligned with our purpose. This will help build a strong pipeline of female candidates for future consideration. Additionally, we're sponsoring a variety of programs to develop and promote women currently employed at Infoblox.
Q: There is currently lack of women in tech … does Infoblox have a goal of how many Women they would like to employ in the company?
NL: We would like to see a significant increase of women represented in our management and technical positions. We are committed to creating and maintaining a work environment that reflects gender diversity, which in turn, will result in higher employee morale, superior performance, and ultimately profitability.
Q: A diverse workplace is proven to get better results, more accurately reflects your customer/client base, and ensures a wider range of experience. Do you feel WIN project will help Infoblox meet its goals?
NL: Absolutely! A diverse work environment offers diverse opinions on broad business issues. Ultimately, business decisions are well thought out and result in sustainable solutions because we've considered a variety of creative ideas and in-depth insight.
Q: What woman inspires you and why?
NL: Personally, I relate to women who are successful because of their resilience and grit. They've been through their share of life experiences that may have been challenging. However, they remained focused and determined, despite the obstacles. These women were not born with a silver spoon. They didn't come from privileged families who paved the way for their success. Instead, these women envisioned their dreams and seized opportunities to pursue them; Overcoming many speed bumps along the way. Even after achieving success they remained humble and gave back to their community so that others can also prosper. Oprah Winfrey comes to mind. My Grandma is another.