Meet Nicola Casale, North American Director, Yellow Goat Design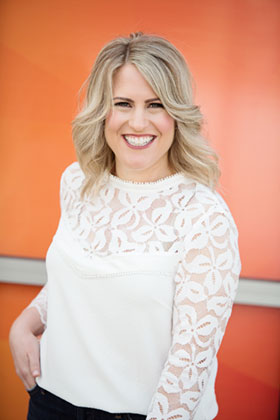 Q: I like the name "Yellow Goat Design" – tell us a little about the business.
NC: Thank you! Yellow Goat is an award-winning, bespoke studio comprised of creators that specialize in the design and fabrication of custom lighting, screens and installation art. The company was founded on the gold coast in Australia nearly 20 years ago by Jerzy and Sandra Lesko. The "Yellow Goat" icon was painted by Jerzy as an artist many years ago. It was his first art piece sold and when he founded the company, it was important to incorporate this image as the logo to remind him of his big breakthrough!
Q: Tell us about your position as North American Director at Yellow Goat Design.
NC: I have the privilege of showcasing our outstanding collection of designs at industry events, tradeshows and client offices around the country. And, as a practicing designer, I also collaborate directly with our high-profile clients on project-specific design development and assist in brainstorming the next show-stopper piece! In addition, I oversee the sales, marketing and project management departments of YGD.
Q: What made you choose this type of business as a career?
NC: Originally, I didn't! I majored in Political Science and after graduation was accepted into the elite White House internship program in Washington, DC. After a few years of working in politics, I decided to pursue my passion and received my Master's Degree in Interior Design from The Corcoran School of Arts & Design at George Washington University. My first design position was at luxury hospitality firm ForrestPerkins. I was incredibly inspired by the design work, my colleagues and industry. It quickly confirmed that I made the right decision to take a risk and re-route my career choice.
Q: What are some of the challenges you feel women face today?
NC: Women in the workforce continue to face challenges that unfortunately should be non-negotiables (i.e. equal pay). As women, we need to continue to share our stories, offer support and allow our voices to be heard. I am fortunate enough to work at a women-owned business with a female President, Carey Schuster, who leads by incredible example and encourages us to chase our dreams, push our limits and carve out the career we desire.
Q: What advice would you give to young women who want to succeed in the workplace?
NC: Be bold, be positive and build relationships while spreading kindness. I have been fortunate enough to have mentors and colleagues provide guidance in challenging situations. I am forever grateful because it led me to make decisions that have successfully impacted my life. Returning the favor to those that need support is what brings me the most satisfaction.
Q: What would you say is your greatest professional accomplishment thus far?
NC: Being named Director of the North American market and having the opportunity to launch the West Coast office here in San Francisco is my greatest professional accomplishment thus far. I am incredibly grateful for the opportunity to develop my leadership and executive skills. As a native east-coaster, I am looking forward to building a network in the Bay Area and meeting the fabulous women and men of the industry.
Q: Can you tell us how you manage your work-life balance?
NC: I find this most difficult when traveling! I do my best to maintain some fun by frequenting my two favorite past times: SoulCycle and Drybar! Spinning and shampoo do wonders for the soul!
Q: When you were 10, what did you want to be when you grew up?
NC: A veterinarian because I absolutely love animals (I have two dogs: a golden doodle "Coco" and shih Tzu "Cannoli"!). Unfortunately, I pass out at the sight of blood, so this wasn't a great fit long term!
Five Things About Nicola Casale
1. If you could talk to one person from history, who would it be and why?
Marie Antoinette. I designed my master's degree thesis around her life and her home, The Petit Trianon. After reading many books about the iconic figure, I have so many questions about the time period and her life at Versailles.
2. What do you like the most about living in the Bay Area?
The incredible views and the proximity to the beach. Nothing makes me happier than a Saturday morning beach stroll with my husband, dogs and the Golden Gate Bridge in the distance! It truly takes my breath away each time.
3: What place have you always dreamed of visiting?
London! I have visited quite a few European cities, but I have yet to explore this fascinating city. I just completed the Ancestry DNA test and found out I am 26% British (and 74% Italian). This is reason enough now! On my to-do list: Visit Buckingham Palace. The historic interiors, dazzling lighting…I want to see it all!
4. What's the best advice anyone's ever given you?
Work hard but play hard too. Life is short, and tomorrow is not a given.
5. Is there something else you would like to accomplish?
I have so many goals, but a standout is to build a supportive network of colleagues and friends here in San Francisco and serve as a mentor and positive role model.
d. 703-507-9771
o. 610.431.2512
e. nicola@yellowgoatdesign.com
w. www.yellowgoatdesign.com
San Francisco • DC • Philadelphia