A Popular Bay Area News Anchor, An Exclusive Interview With Maria Medina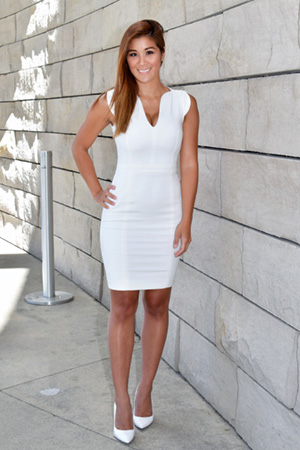 Q: How did your career start as news anchor?

MM: I actually started delivering the news when I was in eighth grade! I love saying that. My first job was delivering newspapers … I actually wanted to be a newspaper reporter. But then a TV station had me on its morning show when I was in my last year of college and the anchors told me I should try TV news and offered me an internship … I was hooked. Sometimes I would spend 16 hours a day in the newsroom just learning the ropes. I worked on the assignment desk answering phones, I went with photographers to get interviews and I followed reporters on stories. I worked on my resume tape for a couple years before landing my first TV job in Yakima, Washington.

Q: What is a typical day like for you?
MM: It always starts off searching for story ideas. That's actually the toughest part of my job. Then we have an editorial meeting where reporters pitch their stories to the producers, the people who make the decisions behind the scenes. The producers pick your story (hopefully they like the one you pitched), and then you're off to get it done by deadline. That means gathering information, interviews and the video you need. No matter what, our goal is to be on the news at 10 and 11pm. You'd be surprised how many obstacles can get in the way ... I've encountered everything from flat tires, crashing computers, lightning storms, swat situations — but we always seem to make it work and that rush makes every day exciting.

Q: Can you share with our audience one of your most memorable events you've covered?
MM: This question is always so tough to answer because there are so many memorable moments in my career. I think one of the most memorable events was getting a serial killer, who had changed her identity, to admit to who she really was. People in the community were beginning to suspect she was Charlene Gallego, the woman convicted in the "Sex Slave" murders. I got her to agree to sit down face-to-face to with me about the crimes. It was surreal and fascinating at times as I was talking to the woman who was behind all these murders that I had read extensively about ... she put the blame on her husband.

Q: Do you have any advice you can share for those women who may want to pursue a career in broadcast journalism?
MM: Don't listen to the naysayers or trolls. Be confident in who you are, how you present yourself and the way you dress. Even if you may push the boundaries, just as long as you are professional. I've gotten emails and comments about my clothes, makeup and weight. It will happen. But feel good in your body, and don't let anyone get to your head.

Q: Which woman inspires you and why?

MM: My grandmother. She is the strongest, most confident woman I know. She taught me not to care what anyone thinks, and to always look your best so you can feel your best. Sometimes looking your best may just mean wearing a smile.

Q: What are some of the challenges you feel women face today?
MM: Social media has really given people the power to say what they want, while hiding behind their computer screen. I know that as a woman and compared to my male counterparts, I get more lewd emails, messages and comments.

Q: What advice would you give to young women who want to succeed in the workplace?
MM: Speak up. If you don't feel something is right, say something. You are your own advocate.

Q: Can you offer advice to parents with daughters graduating from high school?
MM: Tell them; don't be afraid to ask for help, books before boys and not everything belongs on social media.

Q: What do you like the most about living in the Bay Area?

MM: The weather, and the location! I can surf, snowboard, hike year-round or take a quick road trip to LA, Tahoe, Yosemite or Oregon. You can't beat it!

Five Things About Maria Medina

1. If you could talk to one famous person past or present, who would it be and why?

Oprah. Talk about a woman who broke barriers. Imagine if she had listened to a former boss who told her she wasn't fit for TV news.


2. What's the best advice anyone's ever give you?

My grandma told me when I was a little girl; even if you don't feel confident, act like it and you will look like it ... no one will know.


3. Do you have a favorite Movie?

I don't have a particular favorite movie. But I'm a big Star Wars fan. 


4. Where is your dream vacation?

Always Hawaii, it's home for me.


5. What app can't you live without?

Twitter. It's still the best source of information if you want to know what's unfolding pretty much as events are happening right that second.