As a Life-Long Athlete, She Found that Mental Toughness & Tenacity makes Her Successful; Meet Sales & Marketing Investment Property Specialist, Mirella Webb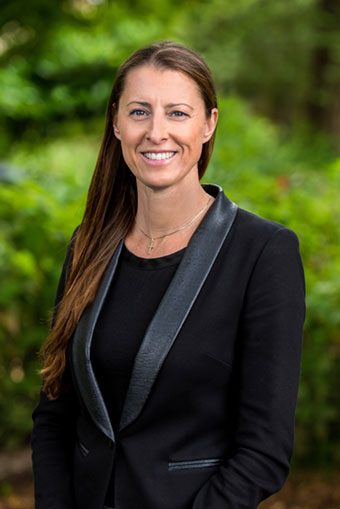 Q: Can you share with us what made you decide to have a career in Real Estate?
MW: I actually started my career in marketing and graphic design. It was by pure luck or fate that my first real job out of college in my early 20's, I got hired at Grubb & Ellis Commercial RE. I stayed in that marketing position for almost 7 years but I lost my passion for it or maybe I burned out as I worked long hours putting together presentations for brokers. I saw the success that these brokers were enjoying and I figured, why not make the jump and take a chance at it?
Q: Why did you choose to be a specialist in the sale and marketing of investment properties versus single-family homes?
MW: Again, my first job led me to investment properties, this is what I was familiar with and residential was never even and option for me.
Q: You enjoyed a very successful career at Grubb & Ellis Commercial Real Estate for over 10 years … why did you change companies?
MW: At the time, there were major changes at Grubb & Ellis. We were bought up by different investors and seemed like the culture was changing. Alain Pinel offered me a great opportunity to start a commercial division for a firm who was only focusing on residential only … jumping on that opportunity was the best decision I've made. 
Q: Do you handle more of the buying or listing side of investment properties?
MW: Definitely more of the listing side, you're almost 100% guaranteed a paycheck.
Q: I noticed you were involved with very expensive properties in the $20 - $30 Million Dollar range … can you share with our audience a brief overview of what's involved in a transaction this size? How long would it take a $20 Million-dollar property to close? 
MW: Honestly, I think that selling buildings in that price range are easier than the smaller deals. You are dealing with professional investors vs. sellers who are emotionally attached to their buildings. It's a business decision and it's all based on the money the buildings is making. There's a lot involved though and it's a lot of work. Depending on the unit count, you have to think about tenant leases and there's a lot of due diligence to gather in the beginning of the deal. It's important to create a very detailed disclosure package. I like to provide the buyers with as much information as possible before accepting offers so it makes the sale process much smoother and there' less negotiations once you get in contract. Nowadays, there isn't much difference between homes and investment property timelines. I recently closed a 12-unit deal in 30 days but I'd say the norm is 45-60 days. 
Q: Who would a typical buyer be for a $20 Million-dollar Apartment transaction?
MW: Long time local investors or syndicators who understand our tough rent-controlled environment.
Q: What's one lesson you've learned in your career that you can share with our audience?
MW: Always do what's best for the client and if you do, things will fall into place. This career is about relationships and instead of just trying to do a deal, you should always look ahead, long term.
Q: Which woman inspires you and why? 
MW: Any woman who speaks up for human rights. A good example is Ilhan Omar.
Q: What are some of the challenges you feel women face today?
MW: I don't believe that women face any more challenges than men. If you are focused, work hard, stay strong and positive, you will achieve success. 
Q: What advice would you give to young women who want to succeed in the workplace?
MW: Take good advice to heart and never stop learning and improving. 
Five Things About Mirella Webb
1. If you could talk to one famous person past or present, who would it be and why?
JFK, the man was wise beyond his years and I'd love to chat with him about so many subjects.
2. If you were a superhero, what would your special powers be? 
Flying, hands down.
3. How do you release stress?  
Mountain biking or running
4. What app can't you live without? 
I'm trying to quit apps ☺ but if I had to pick it would probably be Pandora. I love music.
5. Who's been your biggest influence in your life? 
My dad, he is the hardest worker I know.