A Vision for Your Life, Meet Top Producing Real Estate Agent, Angele' Price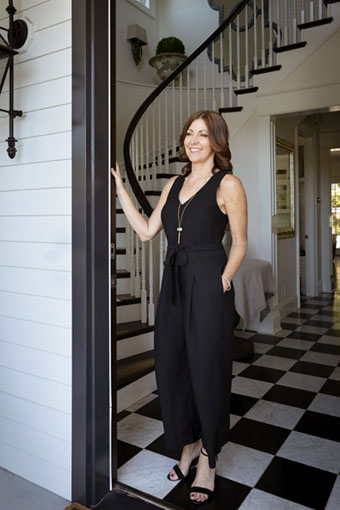 Q: Can you share with us what made you decide to have a career in Real Estate?
AP: I followed in my mom's footsteps by first starting a career in teaching as an elementary school teacher, then transitioned to real estate. It turns out that teachers make great agents because of the attention to details and the personal human interest. A strong interest in results is a common trait!
Q: You're going on 25 years as a full-time agent … you've been through booming years along with the Great Recession, can you share with our audience how your able to consistently be a top producer?
AP: Yes! It has been a wild ride over the decades. Adaptability and willingness to learn and try new things is key to staying relevant. During the great recession, short sales were the major part of our work. Learning to work with banks to get approval and forgiveness on homes sold short of mortgage amounts was a big learning curve. I hope to never see that as a huge trend again.
Q: You have a SRES® Designation as a commitment to assist Baby Boomers and the 50+ homeowners with decisions about aging in place, reverse mortgages, or senior housing options. Can you share with us what this means and the value it holds for potential clients?
AP: With 10,000 Americans turning 65 every single day, I saw that a large segment of homeowners would need more personalized and skilled assistance in making decisions for downsizing and figuring out "the next step". I bring extra knowledge and sensitivity to the situation to help older homeowners and often their families. The needs are unique and having an agent experienced in this area is necessary.
Q: If we interviewed all your past clients … what is one common word that comes up when they describe working with you?
AP: A common theme I hear from my clients is that I went the extra mile to help. Their stories are comprised of me stepping in to handle the logistics of handling tradespeople and orchestrating the process from beginning to end sometimes even when the client was unable to do so for themselves; (i.e. out of town sellers needing decks blown off, plants watered, pets needing a sitter for the day, or meeting with contractors). The best agents are like superheroes who save the day by finding last-minute homeowners insurance, geologists, or foundation experts just to scratch the surface!
Q: Can you tell our audience one of your most memorable moments your career?
AP: There are so many funny and memorable times from my years in real estate that sometimes I think I should write a book! There are the touching moments also. One in particular was a single mom who didn't think she would qualify for a home for her and her two teens in a good school district. I found a small, but cute and safe place for them to lay down new roots and helped her find financing. At the signing, the mom gave me a huge hug and cried. I get Christmas cards every year now from the kids! It wasn't a big sale, but the reward from that moment lasts till this day.
Q: What's one lesson you've learned in your career that you can share with our audience?
AP: While taking an interest in continuing one's training and education to become a better negotiator, marketer, or staying up to date on the new laws is important, some of the simplest lessons have been just as important to me. First, there is always room for improvement. Find out what can make the client's experience the best. It can be different for each person. Some want facts and figures. Some want face to face time to go over things slowly and calmly. Others want quick communication without the fluff. I adjust according to the pace my clients set.
The second lesson is to keep yourself inspired! I am always looking for new inspiration whether from books, Ted Talks, seminars, or even other professionals I admire and respect. When you are in a career for over this many years, fresh input keeps you going strong!

Q: What are some of the challenges you feel women face today?
AP: I was a single mother many years during my career, and so I understand the special pressures and challenges women can have. We all want to be Wonder Woman and many of us really are. In today's world, working mothers are expected to have a successful career and put in the extra hours while also meeting their children's physical and emotional needs. I remember being a room parent, organizing class parties and cupcakes and then dashing out to go meet clients, then returning to pick up a group of kids for a playdate knowing that it would be a late one on the computer after bedtime. A crazy balancing act! Women are strong and tough, however. We just hide our capes!
Q: What advice would you give to young women who want to succeed in the workplace?
AP: Women entering the workplace these days have more opportunities than previous generations, but there are still challenges that remain. I would offer the same advice that I would give to my twenty-something year-old self-back then; embrace your uniqueness and find a way to make yourself stand out rather than fit-in. Have confidence in yourself and know you are more capable than you think! Put in the extra time in the beginning and find a great mentor to fill your sails and give you the benefit of experience.
Three Things About Angele' Price

1. If you could talk to one famous person past or present, who would it be and why?
I've always wished there was a time machine to go back into time and meet famous people from the past. Eleanor Roosevelt, in particular, would be one person I would love to meet. I admire her strength and confidence in a time where women were not encouraged to be involved in politics. What she did for civil rights even in the years beyond her husband's death still influences the lives of people today.
2. What book are you currently reading?
I belong to a book club and one of more recent ones was Where the Crawdads Sing. The main character, Kya, finds herself alone as a young child while her family slowly disbands and drifts off. She learns to support herself living in the marsh in the 1960's without an education or help because of her bright mind. It is beautifully written and the descriptions of the marsh and her relationship to it is moving. Kya is shy but fiercely independent; there is so much depth to her strength and intuition.
3. Do you have a favorite TV show?
Other than the news, I don't watch a lot of television. But I do have a guilty pleasure … The Bachelor/Bachelorette. Not too high brow, but it has always been something to look forward to watching with my teenage daughter! Many laughs and interesting conversations between us have come about because of it!