An Exclusive Interview With Vicky Nguyen, Senior Investigative and consumer Correspondent for NBC News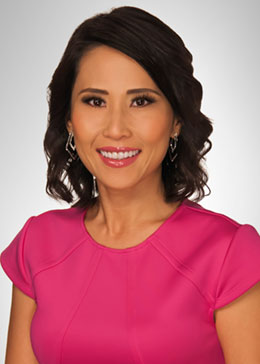 Q: Can you share a little history how it all began, starting with the experience of May 4, 1979?
VN: My parents fled Vietnam as boat people when I was an infant. They wanted to escape Communism and provide opportunities for me, their only daughter, in the United States of America. After a harrowing journey to Malaysia, my family stayed in a refugee camp for more than year, then we were sponsored to America by a family and church community in Eugene, Oregon.
Q: What was your attraction to journalism?
VN: I loved the idea I would be able to learn something new every day and share that with viewers/readers. Journalism requires curiosity, critical thinking, skepticism, and a desire to tell stories that matter and make a difference. Broadcast journalism also calls for a creative thought process, how to best marry your writing with the images you've captured, how to ask questions to encapsulate a moment, how to bring the immediacy of a breaking news event and its significance to people watching at home. It is always a challenge and there are no do-overs. The field is exciting, it is important, and it is rewarding.
Q: For your first Television position, you made a sacrifice leaving your family … did you have any doubts about relocating to Florida?
VN: No. About three weeks after my phone interview with the news director of Central Florida News 13 in Orlando, Robin Smythe, I was on my way from the Golden State to the Sunshine State. I knew I wanted to start reporting ASAP and Orlando was an incredible opportunity. I was thrilled, but I'm sure my family had some trepidation about me, at 21, living and working on my own three-time zones away.
Q: Tell us about your career after you left News 13 in Orlando.
VN: I spent a year and nine months as a one-woman-band in Orlando, shooting, writing, editing and reporting my own stories and delivering live reports for the morning show. Then I accepted a job at the ABC station KOLO-TV in Reno, Nevada. My friends used to joke I was the Biggest Little Reporter in the Biggest Little City in the World. I spent a year and a half in Reno learning how to cover fires and snowstorms and Hells Angels and doing nightly live shots before the news director at KSAZ FOX 10 called me and asked if I'd ever considered working in Phoenix. I looked at a map and checked out flight times from Phoenix to the Bay Area and accepted a three-year deal to work nights and weekends there. It was an excellent breaking news market and I had the chance to also hone my special projects and feature reporting skills. I moved back to the Bay Area to work at NBC Bay Area in 2007 and I've been promoted from general assignment reporter to special projects reporter to my current job as senior investigative reporter/anchor.
Q: Can you share with our audience one of your most memorable events you've covered?
VN: Most recently, the North Bay wildfires in October 2017. Not only was I covering these deadly and devastating fires as a journalist, I was also experiencing the shock and sadness of the community where I grew up. I lived in Santa Rosa from grade school through high school and many of my friends, and my own mother and father in law lost their homes in the fires. I will never forget the experience of reporting on the front lines, asking questions about the emergency alert system, and telling stories about the strength of the community as it rebuilds.
Q: How did you get into "investigative" reporting?
VN: I had been a special projects reporter for about a year and a half at NBC Bay Area before the station launched its investigative unit in 2012. My bosses believed I could make the transition into investigative reporting and I tackled it like I have with every new opportunity: I asked questions, I learned quickly, and I tried not to make the same mistakes twice. Fortunately for me, I worked with some of the most talented reporters and producers in the country, we had great leadership, and we made an impact almost immediately with wide-ranging and impactful reports about food safety, child abuse, immigration, government waste and corruption that changed local and national policies and laws.
Q: What are some of the challenges you feel women face today?
VN: This #metoo era is an invigorating time to be a woman, a mother of daughters, and a journalist. I think the challenges facing women now are, unfortunately, the same that have plagued us for years. Equal pay, representation in leadership and executive roles, harassment in the workforce, finding a way to succeed at home and at work. We have to recognize awareness alone won't change how things operate, we also have to be our own allies and support each other.
Q: What advice would you give to young women who want to succeed in the workplace?
VN: Work smart. Be open to challenges. Keep a positive attitude. Welcome change. Identify what you want and don't be shy about pursuing it. Be kind. Ask questions and be open to criticism. Don't be afraid to disrupt and experiment and speak up but know that you have to deliver. And accept that you will fail, more than once. Let that motivate, not defeat you.
Q: What do you like the most about living in the Bay Area?
VN: The diversity, the incredible food, the accessibility to oceans and mountains and forests, and summer.
Five Things About Vicky Nguyen
1. What book are you currently reading?
How to Raise an Adult, The Drop, and I want to read Brotopia when it comes out.
2. What's your favorite Movie?
Kill Bill
3. Where's your dream vacation?
Any and all tropical places. Blue skies, clear water, palm trees, flip flops and tank tops.
4. Who's been the biggest influence in your life?
I've been influenced in so many ways by so many people that I've been fortunate to meet thanks to my career path. Most certainly my parents set the foundation for my life, and they were extremely un-Tiger about my upbringing. They allowed me a great deal of freedom, decision-making, and independence that imbued in me a strong work ethic and inner drive. My husband, who I met when I was 14 and started dating when I was 16, has also been an unwavering influence in my life. He steadies the ship and counterbalances the unpredictability that comes with a wife who works in broadcast journalism. He's been called a "saint" from time to time by people who know me, and I can't disagree.
5. Do you enjoy cooking? If so, can you share some of your favorite meals you enjoy making?
I love to cook, and wish I had more time to do it. Favorite meals to make: Sushi and Poke Bowls, Nachos, slow cooker Chicken Verde Tacos, Lasagna, Grilled Seafood, Prime Rib Roasts. My parents do a ton of cooking so, lucky for me, they have all the Vietnamese dishes covered and they spoil us with amazing dishes.