A Veteran Realtor With Endless Experience, Meet Lynn Reid, Real Estate Professional at Compass Real Estate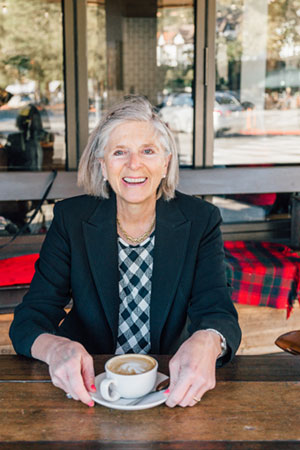 Q: How many years did you live in Cape Town South Africa?  What was it like?
LR: I was born in Cape Town and lived there until I was 32 years old when I immigrated to the USA and was lucky enough to land in Marin County. As a child, Cape Town was a fantastic place to live. It was very beautiful and easy to get around with good schools and lazy days on the beach. As I grew older and began my career as a social worker, I became more aware of the gross racial and social inequalities. It became harder and harder to remain in the country. There was poignancy about the land brought on by the incredible beauty contrasted with highly restrictive, racist policies. I felt compelled to leave the land and home that I loved. Thankfully South Africa has now embraced democracy. 
Q: Tell us about your position as Program Director at Child and Adolescent Psychiatric Unit in San Francisco?
LR: My years as Program Director of the child and adolescent psychiatric facility in St Mary's Hospital in San Francisco was exciting, challenging and very rewarding. I worked with a superb team of nurses, psychologists, educational and art therapists along with psychiatrists who were committed to helping some of the most traumatized children and adolescents in Bay Area and beyond. My role involved designing programs for this inpatient facility, supervising staff, developing a budget, negotiating contracts with community agencies and marketing the program to primary care providers, social service agency, and residential facilities. We were one of only two hospitals that provided such a high-intensity level of care in the Bay Area. We had patients who came from as far north as Redding and Mendocino and as far south as Carmel. It was also a humbling experience to work with the children and adolescents on the units. Most of them had been exposed to all kinds of abuse and neglect and yet had the courage each day to get out of bed and get dressed with the hope that that day would be better. 
Q: What inspired your career change into Real Estate
LR:  In the early 1990's government funding and insurance payments diminished below a level needed to run a successful program leaving us unable to provide the necessary quality of care at St Mary's.  These funding reductions began to hamper related programs across the landscape.  I needed to change the direction of my career.
Since leaving South Africa, the notion of home and the sense of safety and contentment that it provided developed a heightened level of importance to me. A career in real estate seemed like a logical progression to allow me to help people find their place in the world and the home they deserved.
Q: How long have you been in the Real Estate business? 
LR: I have been working as a Realtor for 25 years both in San Francisco and Marin County.
Q: How does the housing shortage compare to other challenges you've seen in Real Estate over the years?
LR: One of the harder challenges I have faced over the years was working with sellers who had bought at the top of the market and then found that their homes were now worth significantly less.  They experienced a natural feeling of being let down by the system and frustration over their lack of control of the situation.  
With the current housing shortage, clients experience frustrations over a perceived lack of control to accomplish their goal of purchasing a desirable home at a price they can afford. There has been a shortage of housing in the Bay Area so long that unfortunately, it appears to be the norm.  Many people have become very anxious about finding and securing a home in this market.  As a member of several agent networking groups, I am sometimes able to help reduce the effects of these strained conditions since I learn about several listings before they come onto the public marketplace. During my career, I have experienced other seller favorable markets, so I am familiar with positioning my buyers to obtain a competitive edge when it counts the most. 
Q: What would a previous buyer and seller that you represented say about you?
LR:  One of the nicest compliments that I had from clients was that they felt that no matter how busy I was it seemed as if they were my only client. This reflects the level of personal care and attention to detail that I provide to my buyers and sellers.
Q: Any predictions for the next two or three years?
LR:  I believe that in spite of the rising interest rates that demand for properties will remain high with a steady increase in prices but at a less robust pace. There is still a dramatic imbalance between the number of buyers and the available inventory and I don't foresee that changing in the immediate future. My hope is that the market remains strong but that more homes become available so that there is a greater balance between supply and demand. It is very hard for first-time buyers to purchase property in the Bay Area. 
Q: Which woman inspires you and why?
LR: There are really two women who come to mind when I think of who inspires me. One is Michelle Obama and the other is my grandmother. Michelle's intelligence, grace under pressure, ability to prioritize and stay true to her beliefs while being challenged and to emerge from eight hectic years under the spotlight with her sense of humor and her family intact is something that many of us could stand to emulate.
My grandmother, Gauthiere, who died at 98 and was very influential in my upbringing and was ahead of her time in some of her beliefs regarding women and their abilities. She taught me to believe that I could do whatever I set my mind to; that I should strive to be financially independent; to confront injustice when I saw it and to laugh a lot. This from a woman who buried two of her daughters and her husband before she was 65 years old.

Q: What are some of the challenges you feel women face today?
LR: This question has been answered eloquently by the media, so I will summarize my personal feelings. There is still gender and salary inequality in the workplace and women must work harder to be taken seriously. They are still underrepresented in many of the more lucrative fields.
Q: What advice would you give to young women who want to succeed in the workplace?
LR: I would encourage women entering the workplace to negotiate hard for salary parity; make sure their job description is clearly spelled out; trust their intuition if things don't feel right and challenge their colleagues and bosses if they disagree with what is being done. I also believe young people today will have many jobs during their career so don't be afraid of resigning if you aren't enjoying the job. Work collaboratively and find a mentor who can provide guidance and act as a sounding board. And don't be fearful of asking for help.  
Q: Can you offer advice to parents with daughters graduating from high school?
LR: I think the best advice that parents can give their daughters when graduating from high school is that the world is a very exciting and wonderful place and that most people are good. That they should embrace opportunities that are offered, seek out those that are not, know what they want and what they believe and be willing to change those beliefs as they grow.
Q: What's one lesson you've learned in your career?
LR: I have learned that there is always more to know and that nothing stays the same. I have learned the value of establishing good relationships with other agents and professionals in the community; of behaving with integrity in my dealings with others and apologizing if I am wrong.
Q: What would you say is your greatest professional accomplishment thus far?
LR: I am most proud of the fact that previous clients trust me enough to refer their friends and family to me when they are looking to sell or buy real estate.
Five Things About Lynn Reid

1. If you could talk to one famous person past or present, who would it be and why?
I would love to have met with Nelson Mandela and learned how he was able to put aside his anger to work with a government which had imprisoned and tortured him in order to bring democracy to South Africa. I have great admiration for someone who was able to put aside his bitterness and work to create change with such apparent equanimity, compassion and joy.
2. How do you deal with stress?
I am an avid swimmer and hiker and use these forms of exercise to relax. I am lucky enough to have a wonderful husband and good friends who provide balance and perspective when I am stressing about something. And if that doesn't work, there is always chocolate chip cookies and a glass of red wine
3. Can you share with us one of your passions in life?
I am passionate about my work. I really love what I do and am stimulated by my smart and energetic colleagues who inspire me to be the best I can be. The idea of helping a buyer purchase the perfect home or helping a seller achieve an excellent price on the sale of their home is something that brings me a great sense of satisfaction.
4. Where's your perfect vacation?
A beach vacation with my family in Cape Town followed by a week on a game safari in either South Africa for Botswana. I love being in nature and being in Southern Africa is spectacular.
5. What book are you currently reading?
I have just finished reading a fascinating book called At Home by Bill Bryson. It is the history of all the ordinary things that comprise a home and moves from the history of architecture to the history of hygiene to a discussion of bedrooms and dining rooms. And many things in between. The writing is witty and illuminating. I learnt many facts that I can incorporate into my work and broadened my vocabulary with words I had not heard of before. Did you know that dendrochronology is the scientific counting of tree rings to estimate the age of a piece of wood or a tree?
CalBRE#: 01164587
lynn.reid@compass.com
M: 415.559.2814